Welcome to the Facebook Marketing Strategy series in which we share the best practices for how to use Facebook for business!  This is part 10 of the series.  In this post, we'll discuss how to target B2B on Facebook and highlightB2B Facebook advertising best practices. 
On days when the office is starting to feel colder than a Canadian Winter, I grab a coffee to warm up. For me, something as routine as drinking a coffee goes hand in hand with checking on what's happening in the world of social media. It's just a few minutes out of my day to mindlessly scroll through my Facebook news feed while coming across some Facebook advertising.
Considering that 1.32 billion daily active users spending an average of 35 minutes per day on Facebook, it seems like a no-brainer to use Facebook ads to reach your target audiences. But what's going to stop the thumb of mindless scrollers like me? How will your ad stand out to your potential clients?
Creating ads that catch a business's eye is a whole different matter.
Marketing on Facebook as a B2B (business-to-business) is entirely different from marketing as a B2C (business-to-consumer). You're targeting an entirely different audience. So this is where things start to get tricky.
Does Facebook advertising work for B2B? Yes, it does. But there are lots of factors to consider when creating targeted Facebook ads for business owners. Knowing how to do so from the start can save you a lot of time and money…two resources that nobody wants to waste!
To help you make sense of it all, I'll walk you through how to best advertise on Facebook and the best Facebook ad objectives as well as ad formats for B2B Facebook advertising, so you can successfully catch the eye of your potential clients.
B2B Advertising on Facebook versus B2C Advertising on Facebook
The main difference between B2B and B2C is the length of the buyer's journey. While B2C decisions are often made quite quickly, B2B decisions can often take a lot longer because your audience is a business You're convincing a group of people, not just an individual. This clearly can be a challenge!
Plus, when a business is your audience, you may need to go above and beyond to prove the value of your product or service.
B2B Facebook Advertising
Your approach to B2B Facebook ads will be different from B2C ads, as you are already targeting an audience that may be quite knowledgeable. Your ads should prove the product/service value to the user.
As a B2B marketer, you can use Facebook advertising to build relationships with your target audiences while reinforcing your brand identity. You can establish yourself as an industry expert by distributing high-quality, relevant content to your target audience.
To successfully advertise your products or services to other businesses on Facebook you need to focus on the following:
Brand Awareness – Step one is getting on the radar of your target audience. Make sure you're known for providing content around products and services that are at least enticing to the businesses you're targeting.
Traffic – Developing brand awareness is important, but you also need readers to take that next step and click on your ad. These are also the people whom you can retarget later if they don't convert immediately.
Lead Generation – If people are contacting you based on your ad, you're on the right track! Obviously, you can't close every single lead, but at least you have the opportunity to try! A strong, relevant Call-to-Action (CTA) will help you get to this point.
Conversions – All the previous steps are about finding the right audience, delivering the right message, and providing a product or service that fits just right. However, you should always keep in mind your ultimate goal is driving conversions.
Facebook Ad Objectives
Businesses often get confused about the difference between Facebook ad formats and ad objectives, but they're two different things. Ad objectives are about the action you want to optimize your ad for. The ad format is the design of your ad, and how the ad actually appears in the feed.
Once you choose your ad objective based on your B2B Facebook marketing strategy, you'll be asked to choose an appropriate ad format that will be the best medium for your objective.
Facebook offers a list of objectives to choose from:
App Installs
Brand Awareness
Conversions
Engagement
Lead Generation
Reach
Store Visits
Traffic
Video Views
However, this list can be simplified into three main categories of advertising objectives: awareness, consideration, and conversions. Each has different purposes:
Awareness: Objectives that generate interest in your product or service.
Consideration: Objectives that get people to start thinking about your business and look for more information about it.
Conversions: Objectives that encourage people interested in your business to purchase or use your product or service.
These objectives are your goals!
What do you hope to achieve from your ads? Not every campaign is all about driving leads, but if you're running a business, chances are high that you're most interested in Lead Generation objective.
Facebook Lead Generation Ads
Lead Generations ads are actually my favorite out of these ad objectives! They keep the consumer on Facebook and let them convert without jumping through hoops on different platforms. They are very effective for bringing in quality leads.
The Benefits of Facebook Lead Gen Ads
Prospects can access your offers without ever leaving Facebook
You avoid the chance of users bouncing on your external landing page
There's no need to create a new landing page
Prospects can show interest in a product/service by specifically signing up for offers or requesting more information such as product demos, guides, or e-books
Lead generation ads changed the game for Vendasta when we began implementing them in April of 2017. Within two months, we were able to generate 2,000 qualified leads at a fraction of the cost. You can read the full details of how we used lead gen ads to blow up our sales funnel in our blog "How We Generated 2,000 SQLs in Two Months with Facebook Paid Advertising".
 For Vendasta, lead ads perform eight times better than regular ads that lead users to an external landing page.
Facebook Ad Formats for B2B
I promised I'd explain ad formats! So here's the lay of the land: Once you choose the objective that matches your goals, you can choose between six different Facebook Ad Formats:
The keys are to know the message you want to convey and your target audience. You should test different formats and ad design to see what's the most effective for you. There's no hard and fast rule when choosing between single-image, multi-image, and video options.
In my experience, I've found that there are several ad types that work wonders for targeting businesses:
Facebook Video Ad for B2Bs
Four billion videos are viewed on Facebook every day so there's no surprise this ad type is the most important kind of content to include in your Facebook strategy.
The video is a very effective way to create brand awareness, increase clicks, and drive returning prospects among the B2B audience on Facebook. It can be a more engaging way to tell your story and demonstrate the value of your products and services to a business. Your videos can range from customer testimonials to product reviews to "how to" tutorials.
Here are some tips for creating your own Facebook video ad:
Keep it short—under 30 seconds if possible
Feature your brand in the first 4 seconds
Add captions to increase viewing time
Create a captivating video that your audience can get the gist of, without playing the sound (Remember that 85% of videos on Facebook are viewed without sound!)
Include a call to action
Create ads that tell a story rather than forcibly promote a product or service
Facebook Carousel Ad for B2Bs
Facebook Carousel Ads have changed the way B2B marketers advertise on Facebook. You can use a carousel ad to display multiple facets of your product or service, or even multiple products—all within one ad!
The benefits of Facebook Carousel Ads:
You can show your audience multiple products all at once or just to highlight the individual features of your product or service
Your audience can scroll through the images and click on individual links to each product or services
It's an opportunity to tell a story or explain how multiple products interact
Cost saving—as you don't have to create ads for each product/service, and can instead showcase them all at once
Why not experiment with these ad types to promote various blog posts or ebooks, for example?
Quick Case Study
Vendasta recently tested Carousel ads to promote our wholesale marketplace of digital products. We chose a carousel ad as it allowed us to feature multiple products in one easy-to-navigate, easy-to-convert ad design.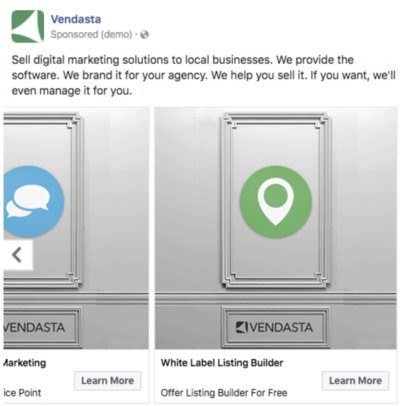 Results: Cost per conversion was less than $10/lead, with over 150 likes, comments, and shares.
Facebook Single Image Ad for B2Bs
If you're focusing on one product, service, or goal, capture readers' attention with a single, powerful image.
A single image ad is one of the most popular ad design types, and for good reasons.
The benefits of Facebook single image ads:
They're easy to produce with one solid design concept
They get the consumers focused on one, strong message
They grab consumer attention right off the News Feed
Some things to remember:
Make sure your image does not get cropped by keeping it in line with the image size guidelines
Adjust your image based on the target audience's needs by focusing your image around one solid message
Use text overlays and logos on your images, but watch out for Facebook's text-on-image restrictions
Quick Study
We recently ran a lead generation campaign with a single image, landing-page click-through ad on Facebook for a partner. We used one clear image design and told a simple message with a strong value offer in the ad copy.
Results: This single image ad campaign achieved 579 clicks at a cost of $0.26 per click!
Slide Show
Even though we touted the effectiveness of video ads above, we know that producing custom videos can be costly. Facebook's SlideShow ads offer a good an alternative solution that allows you to weave images and snippets of video together into one cohesive story.
Facebook Canvas Ads for B2B
Grab the attention of the decision makers where they're spending a lot of their time—90% of Facebook users access the platform on their phones!
Canvas ads are one of Facebook's newest ad format initiatives designed to capture the complete attention of your audience. In short, canvas ads offer an interactive, full-screen mobile experience that takes over the full screen of any mobile device.A canvas
A canvas ad can almost be considered as a round-up of other ad formats presented in a different way. You can actually use a canvas ad in conjunction with other ad design formats and have the full-screen ad showcasing a single image, a video, a carousel—and more.
Benefits of Facebook Canvas ads:
A fully interactive experience capturing the complete attention of  your target consumer
Native to the mobile Facebook experience
Get up close in a personal way offering the benefits of your product to the businesses who need it
Good  choice for any advertising objective
Anything that keeps users in Facebookland is good for Facebook, but is it good for you?
Josh Constine of TechCrunch reported that Facebook beta testing yielded nice engagement results for Canvas Ads:  "53% of Canvas ad viewers see at least half of the ad and the average view time per ad is 31 seconds."
So for now, if your audience is viewing your ad and taking the next step, it doesn't matter if they do so on Facebook or on your website. Your best option is testing out the format for yourself to see if it works for you!
Here's an example of what life looks like inside a canvas ad:
Taking Action
It takes some planning, strategy, and a good understanding of the Facebook platform and your target audience to turn those lightening-speed Facebook scrollers into loyal customers and brand ambassadors.
To get started, clearly, define your objectives for the campaign and choose the appropriate ad format. Then, you need to know your target audience thoroughly, and craft arresting messaging and imagery to pull them in. Boring and safe won't work in the Facebook world — you have to stand out with killer intro copy and catchy images.
Remember: when using Facebook for B2B advertising, your mission is to convince an entire organization that your product/service is the solution to their problems. So think out of the box, test until the cows come home, and never stop exploring Facebook's innovative ad platform!
If you're looking for examples of successful B2B Facebook campaigns, check out this B2B Facebook ads case study!
Dew Smith is the Managing Editor at Vendasta, a SaaS company specializing in building white-label digital marketing solutions for local businesses. When's she's not juggling content and researching blog content at lightning speed, Dew spends her time taste-testing local restaurants, binge-watching Netflix shows, and getting spooked by horror movies.
Want to understand how Facebook's change in algorithm impacts your advertising strategy? Don't miss this post. And don't forget to make it easy for readers to share your content with the Facebook share button!