Whenever you crave a visual feast, Instagram is probably one of the top social media platforms you would visit. As you browse through your Instagram feed, you might notice that it only takes a few scrolls down the page before you come across some Instagram quotes. They are often overlaid onto a photo, illustrated with an eye-catching design, and/or typed into the post's caption alongside an optional hashtag or two.
The driving force behind the popularity of Instagram quotes is similar to that behind Instagram's claim to fame: users love content that is relatable to their interests, aspirations, and inspirations.
For brands and people who want to go viral and get more likes and followers on Instagram by using Instagram quotes, there's a three-part success formula to follow: First, research on current trends and top Instagram quotes to get inspiration and ideas. Second, dig into your data so you can cater to your audience's deeper needs and wants. Third, use Instagram follow button to effortlessly grow your Instagram following overnight.
To get started, let's look at some of the top Instagram quotes 2018 has in store.
1. Inspirational Instagram Quotes
Many people browse through their social media feed when they are bored or experiencing some routine and mundane parts of the day. You can capture and engage this audience if you can help them dream big and immerse themselves in a new world.
Quote.com analyzed more than 3 million Instagram posts that had quote-related hashtags like #quoteoftheday, #quotestoliveby, and #quotes to identify patterns among the best Instagram quotes. They found that the top quote was: "When 'i' is replaced with 'we' even illness becomes wellness" – a quote that inspires users to be more selfless and compassionate.
Similarly, the second most popular quote encourages people to be more supportive and giving: "If you need me, call me. I don't care if I'm sleeping, having my own problems, or angry with you. I'll be there for you."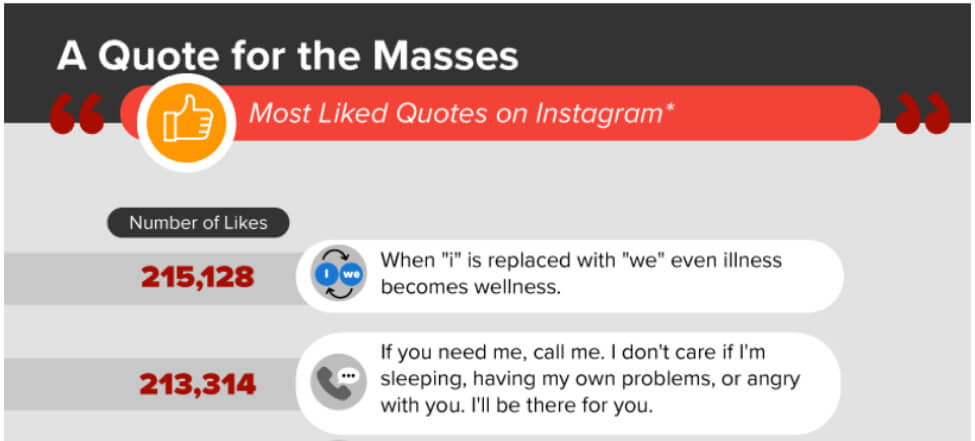 Image: AdWeek
Ideal audience: As a more catch-all kind of quote, inspirational Instagram quotes generally appeal to all audiences. Just watch out for more cynical users who find them to be cliché and try to avoid them.
2. Motivational Instagram Quotes
Motivation usually comes hand in hand with inspiration. Motivational Instagram quotes tap into a user's desire to be a better version of themselves. Maybe they want to be healthier, learn a new skill, or make the world a better place.
Nike has developed a strong reputation for motivational quotes, like this one: "The only person who can tell you your limits is you, and even then you don't have to listen."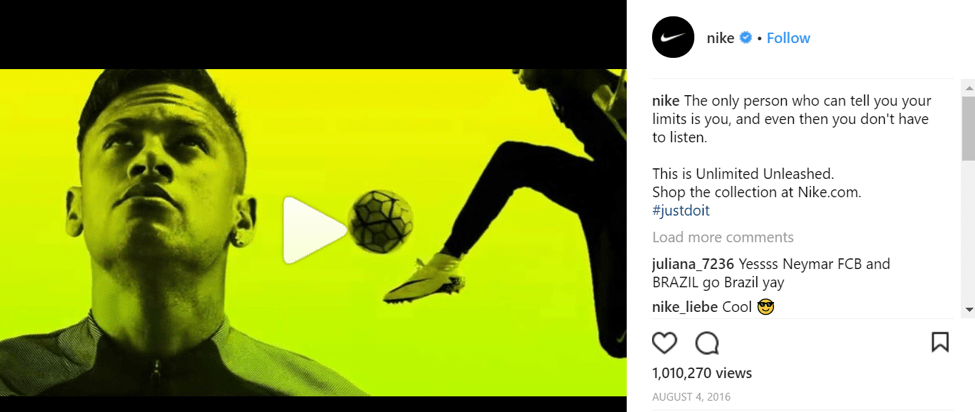 Image: Instagram
Ideal audience: Millennials and gen Z-ers – younger audiences who are talented, opinionated, and determined to achieve their goals. This is a big opportunity for health and fitness brands, fashion brands, and other types of businesses that promote a certain lifestyle that users might aspire to.
3. Instagram Quotes for Business
According to BNP Paribas's Global Entrepreneurs Report, millennials under 35 are starting more businesses, managing larger teams, and aiming for higher profits than the baby boomer generation. Considering that 25- to 34-year-olds are the most active age demographic on Instagram, brands have a massive opportunity to appeal to these "millennipreneurs."
Jason Stokes, Founder and CEO of Eastside Co, the #1 Shopify agency in UK, uses Instagram quotes to share insights and tips on entrepreneurship with his followers.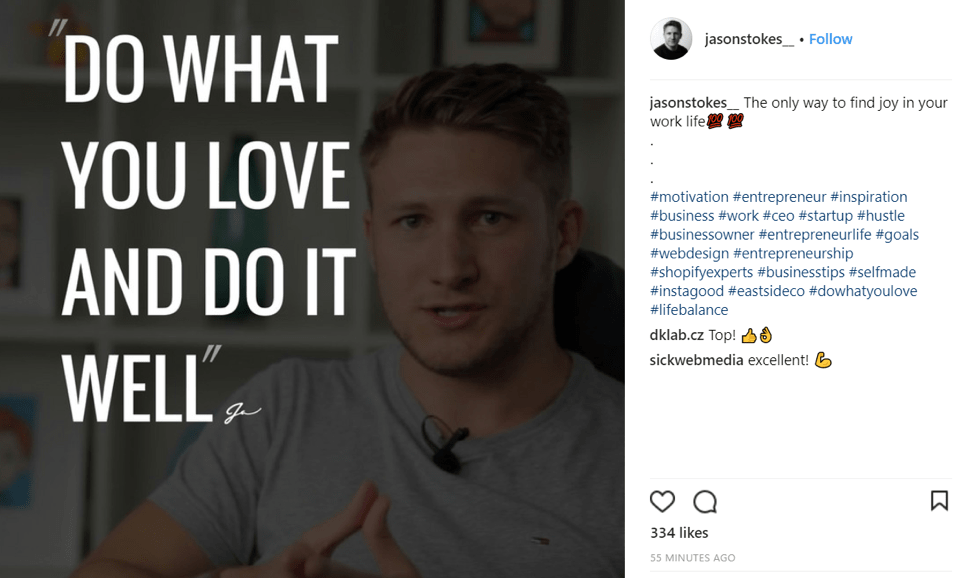 Image: Instagram
Ideal audience: Entrepreneurs and business owners, especially millennials – but not limited to them. This audience will typically be college-educated and earn a higher-than-average income.
4. Funny and Entertaining Quotes
Whether you're on the commute to work, waiting for a friend to meet up for dinner, or relaxing on the couch, a good laugh is always welcomed and humor is something that we all treasure. That's why funny Instagram quotes are a great way to attract and engage an audience.
Heymama, a content and community platform for modern working moms, knows its audience well when it comes to humor. Like this quote that says: "I don't understand how I can remember every word from a song from 1994, but I can't remember why I went into the kitchen."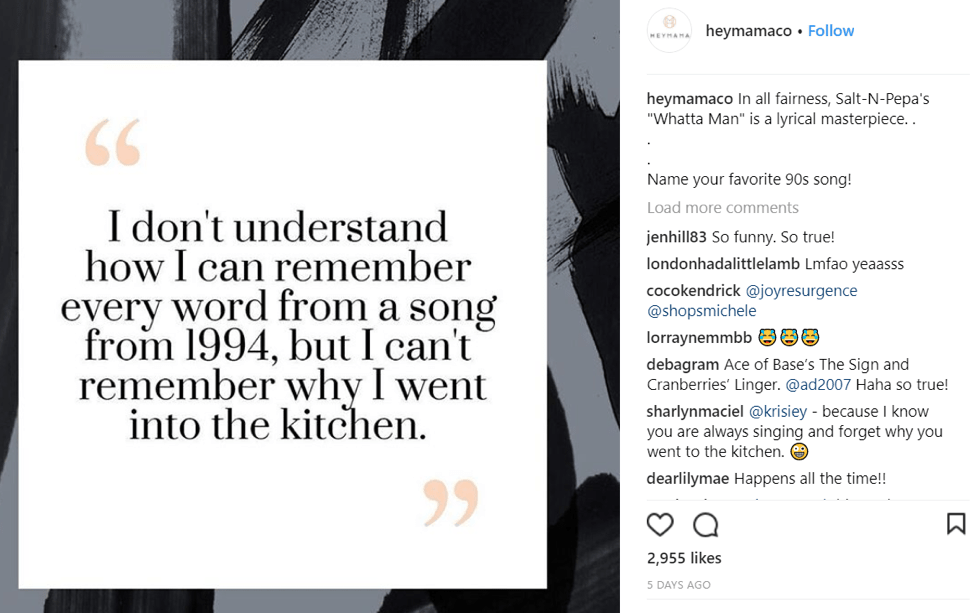 Image: Instagram
Ideal audience: Similar to inspirational quotes, funny and entertaining quotes have a mass appeal. Make sure that your humor style aligns with your audience, and that you avoid controversial or potentially offensive jokes unless pushing boundaries is part of your brand strategy.
How to Make Quotes for Instagram
Cooking up good quotes is a lot like brainstorming blog post ideas: you should lean on your customer-facing coworkers, stay abreast with news and current trends, and make data-driven decisions.
Once you've chosen your quotes, it's time to create your masterpieces. If you don't have graphic design experience to make the images yourself, there are dozens of free and cheap tools that can make the process quick and simple. Check out desktop tools like FaceGarage, Recite, and BeHappy.me. There are also plenty of mobile apps for iOS and Android, like Text2Pic and ImageQuote.
You can certainly brand your Instagram photos when it's appropriate but don't go overboard – you can lose engagement when a quote starts to look like an inauthentic ad. A small, un-intrusive logo in the bottom corner or a branded hashtag in the caption will do the trick.
Want An Effortless Way to Get More Instagram Followers?
By using the right types of content and images, you'll be on the right track to creating entertaining, thought-provoking, and beautiful Instagram quotes that keep users flocking to you. While you're creating stellar content, don't forget to make it easy to get more engagement from Instagrammers. The ShareThis Instagram follow button is mobile optimized, lightweight and easy to configure and install. Check it out!
Want to add follow buttons for your other social channels?