A picture might be worth 1,000 words, but that's not to say words can't enhance your pictures. On Instagram, your photos are the visuals that grab attention, but your caption can really make or break a post.
Why do you need an Instagram caption?
Whether you're sharing your own photos or reposting another Instagram post, a great caption is key to engagement. Captions, which can be up to 2,200 characters in length, provide a backstory to your photos. A great caption can make a photo that seems sad on the surface hilarious in context. But they're not just for joking around; they're often used to convey important information, such as the date of an upcoming event or a call-to-action.
You can include up to 30 hashtags in an Instagram caption, which can help to boost your visibility and grow your Instagram following – and emoji are allowed, too. In other words, there's a lot you can pack into an Instagram caption.
8 great Instagram captions you can learn from
Want to see how it's done? Let's take a look at a few spectacular examples.
Canva: Offer useful tips followers can use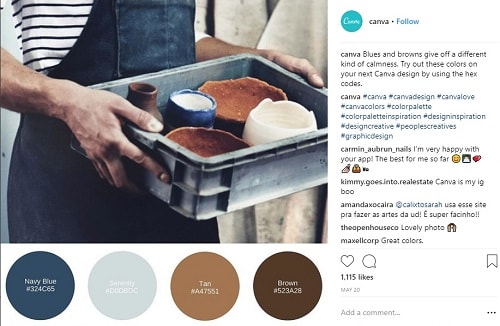 Screenshot via Instagram by @canva
"Blues and browns give off a different kind of calmness. Try out these colors on your next Canva design by using the hex codes."
In this Instagram post, Canva shares a color palette with a caption that explains that blues and browns create a sense of calmness. This tidbit of useful info is followed up with a subtle call-to-action encouraging followers to give this color palette a try in their next Canva design. And, each shade showcased in the image is labeled with its hex code, so Canva's followers can put it to use with ease.
Toyota: #Hashtag those taglines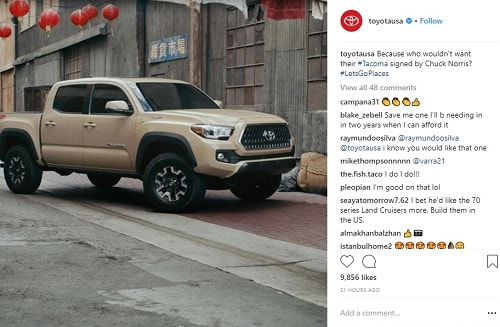 Screenshot via Instagram by @toyotausa
"Because who wouldn't want their #Tacoma signed by Chuck Norris? #LetsGoPlaces"
Toyota does a few things particularly well with this Instagram caption. Name-dropping Chuck Norris never hurts, but they also keep it short and sweet with a rhetorical question. Even though the question requires no answer, the post generated thousands of likes and dozens of comments. But the main takeaway from this caption is Toyota's smart use of their tagline (#LetsGoPlaces) as a hashtag, along with #Tacoma, the model of the truck shown in the photo.
Kohl's: Use smart CTAs and offers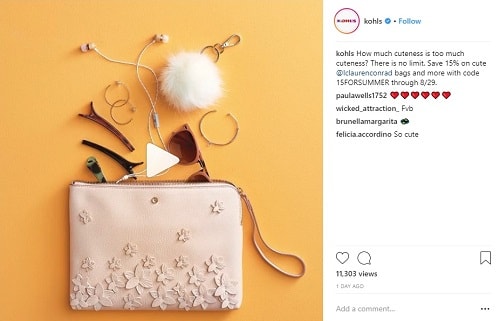 Screenshot via Instagram by @kohls
"How much cuteness is too much cuteness? There is no limit. Save 15% on cute @lclaurenconrad bags and more with code 15FORSUMMER through 8/29."
You don't have to use all 2,200 characters to get the point across. Kohl's gets things done with a strategic offer and a smart CTA in this Instagram post. The caption kicks off with a question and quickly moves into the discount offer, complete with a coupon code for those who want to score the deal.
Travel Channel: Make announcements (& @mention other users)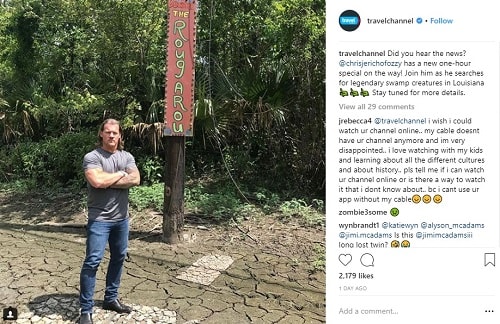 Screenshot via Instagram by @travelchannel
"Did you hear the news? @chrisjerichofozzy has a new one-hour special on the way! Join him as he searches for legendary swamp creatures in Louisiana  Stay tuned for more details."
Travel Channel demonstrates how your Instagram caption can be used to make important announcements, in this case, an upcoming one-hour special that's set to air on the network. But that's not all we can learn from this caption: they also tag the host of the show, professional wrestler Chris Jericho, a strategic move that's sure to send some of Jericho's 2.9 million followers the Travel Channel's way.
CSU: Drive traffic to other channels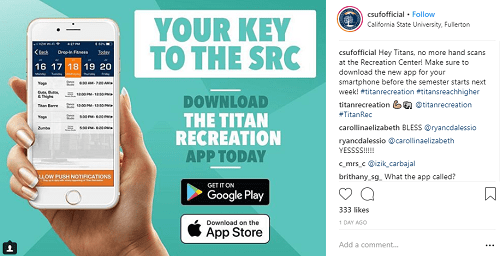 Screenshot via Instagram by @csuofficial 
"Hey Titans, no more hand scans at the Recreation Center! Make sure to download the new app for your smartphone before the semester starts next week! #titanrecreation #titansreachhigher"
Use your Instagram captions to drive traffic to other channels, like California State University Fullerton does on an Instagram post, which encourages students to download the school's Titan Recreation app. What's in it for students? They'll save themselves a hassle at the Recreation Center, a no-brainer. All of this conveyed with a single sentence, complete with a couple of #hashtags.
Alex and Ani: Use hashtags to tie into current events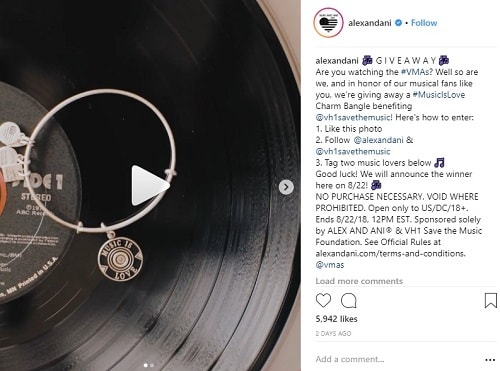 Screenshot via Instagram by @alexandani
" G I V E A W A Y 
Are you watching the #VMAs? Well so are we, and in honor of our musical fans like you, we're giving away a #MusicIsLove Charm Bangle benefiting @vh1savethemusic! Here's how to enter:
1. Like this photo
2. Follow  @alexandani & @vh1savethemusic
3. Tag two music lovers below 
Good luck! We will announce the winner here on 8/22! 
NO PURCHASE NECESSARY. VOID WHERE PROHIBITED. Open only to US/DC/18+. Ends 8/22/18, 12PM EST. Sponsored solely by ALEX AND ANI® & VH1 Save the Music Foundation. See Official Rules at alexandani.com/terms-and-conditions. @vmas"
Alex and Ani knows better than to let a big happening like the Video Music Awards go to waste, so they made it relevant with this giveaway post. The jewelry creator makes smart use of the #VMAs hashtag (and, of course, the various @mentions) to capture views from users who are looking for news on the awards. (We've extolled the virtues of amazing Instagram giveaways in another post.)
Want to learn more about how to create giveaway posts? Check out article on the best examples of Instagram giveaways.
Lush Cosmetics: Go behind the scenes and build interest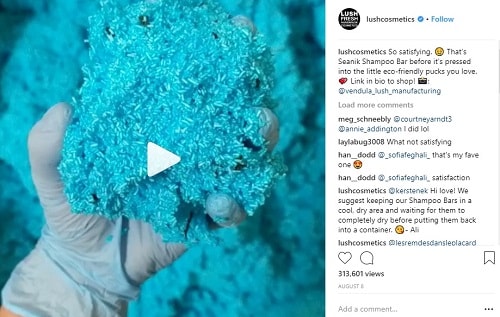 Screenshot via Instagram by @lushcosmetics
"So satisfying.  That's Seanik Shampoo Bar before it's pressed into the little eco-friendly pucks you love.  Link in bio to shop! 
Here's a great example of an essential caption: In this post, Lush Cosmetics is giving followers a behind-the-scenes glimpse at what goes into their Seanik Shampoo Bar. The caption not only provides a necessary explanation of what you're looking at, but it drives interest in something that followers might otherwise scroll past. Plus, who wouldn't be intrigued to try out this silky-looking soapy goodness? Thanks to the CTA at the end of the caption, followers know right where to go to get one.
GoPro: Go inspirational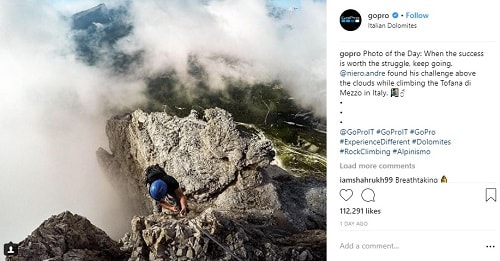 Screenshot via Instagram by @gopro
"Photo of the Day: When the success is worth the struggle, keep going. @niero.andre found his challenge above the clouds while climbing the Tofana di Mezzo in Italy. "
GoPro provides a little inspiration for those times when the going gets tough with this Instagram post. Impressive photography aside, the caption on this photo of the day post is just what we all needed to hear to stay motivated. Positivity is contagious, so caption your Instagram photos with something shareworthy!
These are just a few examples of great Instagram captions you can learn from. But remember, catering to the unique needs and likes of your unique audience is key. (Not sure how? Find out how you can use Instagram analytics to get a finger on the pulse of your followers.) Because creating brilliant captions takes time, craft your captions when the inspiration strikes and use an Instagram scheduler to schedule your best-captioned posts at the optimal times to boost engagement. And be confident your caption is reaching the widest audience possible by adding an Instagram follow button to your site.