It's funny that sometimes social media managers spend more time pondering about how many Facebook posts per day is too many than strategizing the images for Facebook posts.
But if you've ever doubted the importance of picking the best image for a Facebook post as part of your Facebook posting strategy, consider this: 86% of marketers surveyed by Venngage said that visual content is either quite important, very important, or absolutely essential to their marketing strategies, and 43.9% said that they publish content containing visuals 5 to 10 or 10+ times per week.
There's a ton of visual content out there for consumers to see — and it's getting harder to grab their attention. So what can you do to make sure every Facebook post has an impact? Adopt a smart image-selection strategy.
1. Be relevant
It's important to choose an image that's relevant to — and reflective of — your content. You don't want to mislead users about what they'll get when they click, as that can erode brand trust, but you also need to make sure the people who do click are actually interested in the content. The ultimate goal, after all, is to get social traffic that's qualified.
At the same time, your image doesn't have to tell the whole story.
Take a look at some of the best Facebook posts by top-tier publishers like The New York Times and you'll find the images they include in their posts never give too much away. Think of those images as trailers for an upcoming movie: they should pique the audience's interest without revealing the whole plot. This approach will really open up your image options.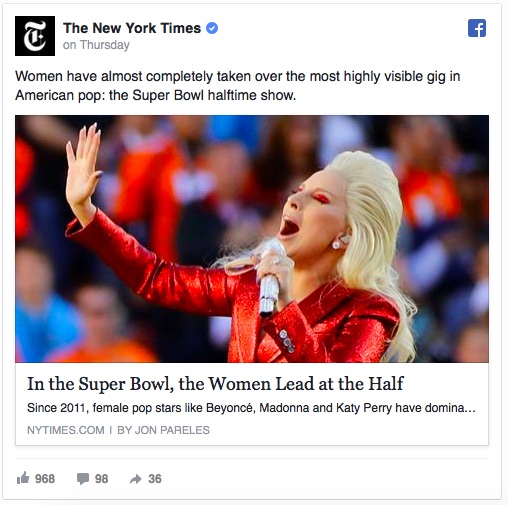 2. Quality counts
If you were to scroll past a low-resolution image and one that was sharp and clear, which would catch your eye? Image quality matters, and since the images you select for Facebook will be visible on multiple platforms, you'll want to ensure their integrity is always intact.
The best way to do this is to go for images that focus on a single, easily-identifiable object. Stay away from those that feature a lot of small details, as these might get lost on a smartphone or tablet screen.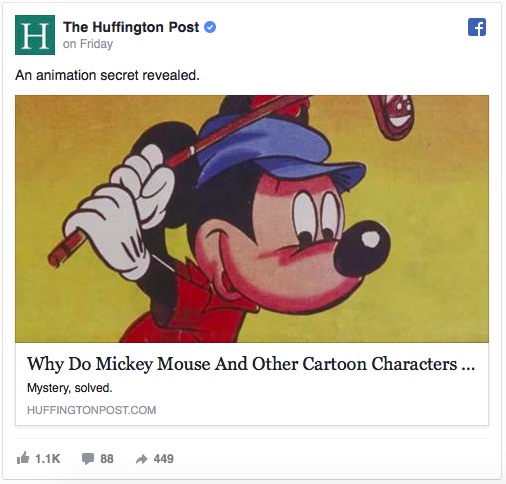 Do you tend to use stock images for Facebook ads? Well, stock images work better for some brands than others, but as long as the image comes across as genuine and has the potential to evoke an emotional response, give it a try. If you decide to go with something original instead, Facebook recommends taking photos in well-lit places and focusing on still — not moving — objects.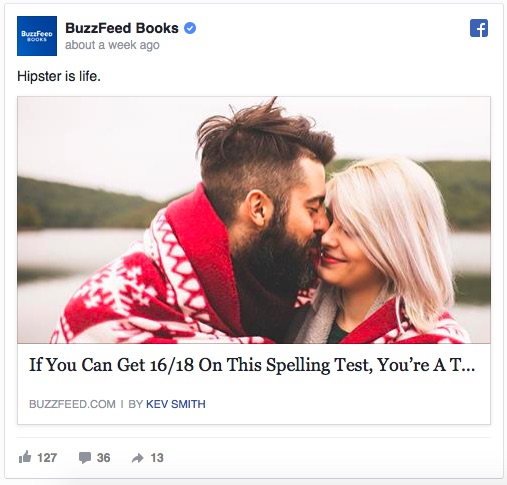 3. Think about your audience
You know who your facebook followers are, but do you take the time to identify your target readers for each individual Facebook post?
This strategy can help you with decisions like photography style. If you know a story related to "adulting" will appeal to millennials, you can go artsy with your image instead of sticking with a more classic look. A/B testing your Facebook posts to compare the effectiveness of portraits versus landscapes and black and white photos versus color can deliver valuable insight into what's going to engage your audience. It's always a good idea to A/B test your Facebook intro copy and ads, too.
When you've got a strong strategy for choosing Facebook images, you can increase conversions and create a better overall experience for your audience.
Beyond your image, you also want to think about choosing the perfect pinned post on Facebook to help engage with your audience as well.
This post is part of the Facebook Marketing Strategy series in which we share the best practices for how to use Facebook for business!  This is part 5 of the series.  
Want to understand how Facebook's change in algorithm impacts your Facebook marketing strategy? Don't miss this post. And don't forget to make it easy for readers to share your content with the Facebook share button!
Want to make it easy for readers to share your content on other social channels?