Have a great Facebook post that you want to remain visible over several days or weeks?
Pinning a post is one of the easiest – and most effective – ways to ensure that your best and most important post is the first thing visitors see when they land on your page. Here's everything you need to know to get the most out of this handy Facebook feature.

What does pinning a post mean?
Usually, when you think of pinning something online, you think of a Pin on Pinterest, but here we're talking about pinning on Facebook. Pinning a post "pins" the content to the top of your page, meaning that it won't be pushed down your timeline each time you publish a new post. It's the first thing visitors see when they view your timeline, making it particularly useful for welcoming the new followers you've gained (thanks to your Facebook follow button, of course), for making visitors aware of any page or community rules, or for conveying other essential, need-to-know information.
You may also remember the now-extinct 'highlighting' feature, which expanded the width of the post to two full columns, making it more attention-grabbing than the typical post. While highlighting a post is no longer possible, pinning a post is one of the best ways to make sure your most important posts are visible.
How to pin a post on your Facebook page
The first thing to know about pinning Facebook posts is that you can't do it on your personal timeline – pinning is only possible on a Facebook 'page'. And, in order to pin a post, you must be an administrator or editor of the page.
So how do you pin a post? It's easy to do:
Find the post you want to pin in your timeline.
Click on the "more" icon (the three dots) in the upper-right of the post.
Select "Pin to Top of Page."
And that's it. If you're successful, a thumbtack icon will appear on the post (indicating that it's pinned) and the post will move to the top of your page.
(Ready to unpin your post? Follow the same steps, but select "Unpin From Top of Page.")
Can you pin posts in Groups?
Facebook is always changing things up. One of the more recent developments is that the pin post feature has been replaced by announcements in Groups. The benefit of announcements is that you can have up to 10 at a time, while pages are limited to a single pinned post at a time. Only admins and moderators can make announcements.
According to some Group administrators, after designating a post as an announcement, you do have the option to pin the announcement to the top of the timeline. And, Group admins can set an expiration date for these posts, meaning you won't need to remember to remove timely announcements later when they're no longer relevant.
If you don't yet have announcements in your Group, sit tight: like most new Facebook features, it's being gradually rolled out to all Groups.
When should you use announcements? They're ideal for conveying Group rules (or changes to Group rules), recognizing certain members, letting your members know about upcoming events or special offers, answering commonly asked questions, and more.
How to create an announcement in a Facebook Group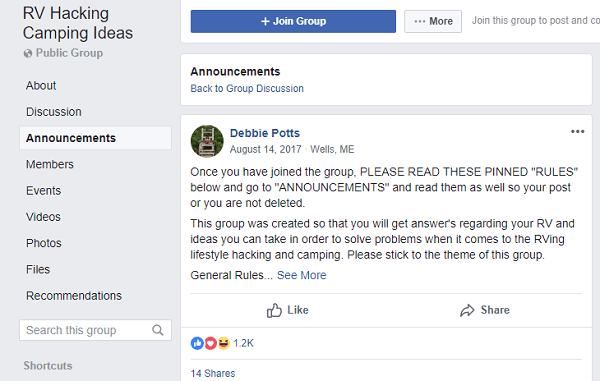 So how do you create a Group announcement? It's also a simple process:
Click the "More" icon in the upper-right corner of the post.
Select "Mark as Announcement."
Choose an expiration date and click "Confirm."
To remove an announcement before it expires, follow the same steps, but select "Remove Announcement."
Now, if you want to make sure that your announcement is the first thing your members see when they visit your Group, you can pin it to the top:
Go to the announcement you want to pin.
Click the "More" icon in the upper-right corner of the announcement.
Select "Pin to Top." (If you want to unpin a previously-pinned announcement, select "Unpin from Top.")
Tip: Encourage your Group members to turn on post notifications in your Group. That way, they'll get a notification each time you make an announcement – so you don't need to count on every member visiting the Group to stay in the loop.
Tips for getting the most out of pinned posts and announcements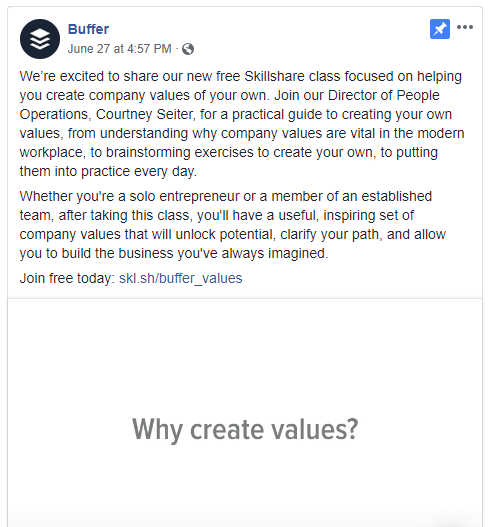 Here's a sampling of a few creative uses and valuable tips to help you get the most out of pinned posts and Group announcements.
Pin your latest blog post on your Page to drive traffic. To take this strategy further, install a Facebook Messenger button on your blog to make it easy for readers to discuss your blog posts with their friends.
Make an announcement in your Group about upcoming events. Set up a Facebook Event so your members can RSVP and help to spread the word (make sure that announcement includes a link to the Event page).
Use announcements to make members aware of Group rules and keep the peace. If your Group discusses controversial topics, this is a must for your sanity.
Rotate your pinned posts often. Of course, it's helpful to keep vital information front-and-center, but remember: you can only pin one post at a time. So, consider using that premier Page real estate to highlight intriguing content, special announcements, or timely news – and move your evergreen content (such as Page rules) to the About tab.
Leverage Facebook Audience Insights. Analyze your data to discover the types of pinned posts your audience engages with most. Or, you can use Insights to find the posts with the highest engagement to decide which post to pin.
It seems that the one constant with Facebook is change. While these features probably won't be around forever, pinned posts and Group announcements make it easy to draw more attention to the content that matters most. So take advantage of the opportunity to test some creative uses and boost the visibility of your most important posts – no ad spend required.