Online publishing is a cut-throat business. Traffic is tough to sustain, and ad blockers send revenue plummeting to new lows. To compensate, more than three-quarters of publishers make money by supplementing their ads with subscriptions, hoping to build an audience of loyal and paying readers.
The bad news is many are still struggling to survive. The good news is they don't need to start from scratch or invest in new assets. They just have to double down on the assets they have—content and audience data—and use these assets to strategically increase their revenue.
We've already explained how to retool your old content to drive new traffic. Now we'll share three proven strategies for wringing more money out of your existing assets.
Let's take a look.
1. Convert Facebook visitors into subscribers
The Economist grew its social following by 25 percent in just the past year, now boasting 7.8 million followers on Facebook. That's all well and good. But in order to make money, it needs to turn those come-and-go social fans into loyal subscribers.
The publication does this in a few ways. It creates Facebook posts that tease in-depth articles, encouraging readers to visit the site and get a feel for the content. It posts standalone facts of the day, which can easily be shared on social media. And it sponsors popular organic posts to reach wider audiences.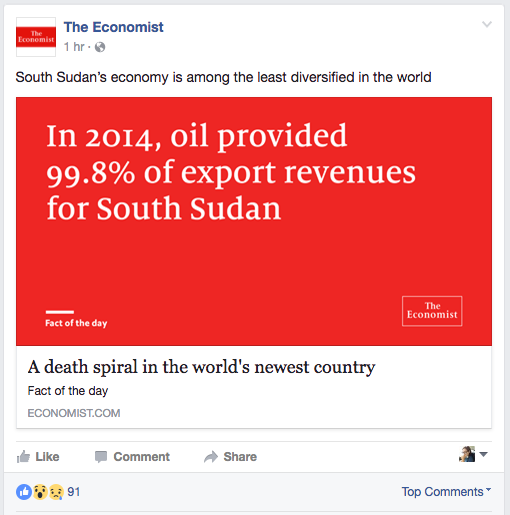 The Economist then follows up with targeted Facebook ads that urge readers to subscribe. By using this strategy, the publication cut its cost of acquisition in half and increased the lifetime value of its customers.
Still, it could further improve its process if it knew exactly which types of content resonated with its audience. Ideally, Economist is using A/B testing to find the most engaging headlines, intro copy, and images that capture potential subscribers.
2. Use audience data for retargeted ads
Want to engage potential subscribers? Just look at the data that's right under your nose. What are people reading? What do subscribers love that other people might love too?
Tribune Publishing—now Tronc, Inc.—checks its data-management program to answer these questions. The company then uses that data to craft relevant messaging to similar audiences who have yet to subscribe.
Say 1,000 people read a sports article. Tribune can remove the 200 readers who are already subscribers and retarget the remaining 800 with a Facebook post about another popular sports article. Or it can retarget those 800 with a Facebook ad asking them to subscribe for more sports-themed content that meets their interests.
3. Invite subscribers to share paywalled content
The Wall Street Journal made a pretty big New Year's resolution: Reach three million subscribers by the end of 2017. To succeed, the brand is doing something it has never done before — letting subscribers share articles for free on social media. This strategy encourages paying customers to spread the Journal's gospel and pique the interest of non-subscribers.
The publication could take this one step further, however. It could pre-populate social share boxes with suggested content. For instance, if this article were behind a paywall, a subscriber could click the Facebook share button, and see a ready-made post with the most engaging headline, image, and intro copy set to go.
By harnessing the power of audience data and existing content, publishers can start catering to the people who really bring in the money long-term: their audience.