The proliferation of smartphones and the powerful cameras we now have in our pockets has enabled our lives to be seen, captured, and experienced in an entirely different way. And it has revolutionized the way that we search and reference items in our daily conversations.
This change in behavior also alters the way we interact with our online searches and how we seek information. As the online environment becomes more and more visual, so should the tools we use be optimized with "visual search" technology.
So, what is visual search?
In a nutshell, visual search allows people to use images to search. It creates better discovery and search experiences that sometimes words cannot precisely express. For example, Pinterest's Visual Search capability allows you to "zoom in on a specific object in a Pin's image and discover visually similar objects, colors, patterns and more," making it a more robust user experience for shopping and browsing content all within the platform.
Pinterest is not the only social platform that is at the forefront of building out more innovations for visual search. Facebook, Snapchat, and of course Google are quickly breaking ground in finessing this new mode of search.
In this post, we'll break down the key platforms and explain how publishers and content creators could utilize these visual search capabilities to enrich their business with their communities.
Facebook
Initially used to assist visually impaired users, Facebook's AI-powered visual search system has now been adapted for users to search for images on the platform with keywords that describe the content of a photo, rather than being limited by tags and captions. Facebook's technology allows search terms to serve up relevant image results from the billions of user-generated images already available within its platform.
How can I use this to help my business or brand?
Photos are worth a thousand words; as a publisher, you should take advantage of Facebook's visual search functionality. With Facebook's 1.28 billion daily active users with approximately 85% outside of the US and Canada, their visual search allows your brand to stand out on a global stage at scale.
Tap into the rich bank of user-generated images by engaging with photos via Likes, Comments, and Reactions. Rather than focusing the majority of your time, money, and efforts on creating original content, you can search for visually-relevant terms, phrases, locations, or objects that tie into your brand. Afterwards, you can generate clicks and awareness by simply acknowledging Facebook photos that users upload to Pages, public accounts, Events, or open Groups.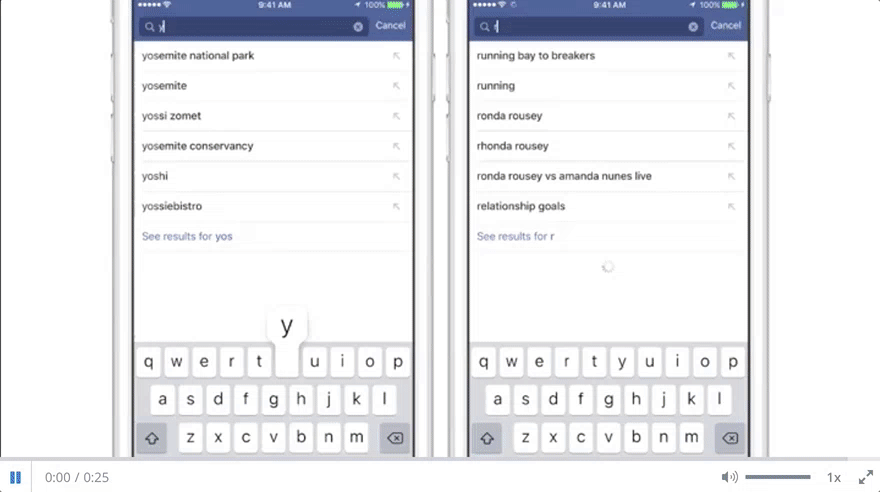 Pinterest
Pinterest seems to be at the forefront of visual search. It also appears to be the most natural fit and practical need within the app's user experience environment. Pinterest's robust visual search product allows you to utilize its crop tool once you zoom in on a specific object in an image or what the company calls a "pin."
From there, you would be served with related pins that have a visually similar object, color, or pattern to discover more of the item that you fancied while scrolling through the infinite feed of content.
How can I use this to help my business or brand?
Pinterest's visual search tool is the closest you can come to replicating a real-life shopping experience in a store. Any e-commerce business (including one owned by a publisher) would benefit from utilizing Pinterest's tool to enrich the shopper's experience: allowing the consumer to "browse" online through visual search, bringing them closer to your brand.
Snapchat
We all know that Snapchat is not the most intuitive platform to navigate, especially for more traditional brands who are slow to get started on this ephemeral ecosystem. However, the ghost app is now making it easier than ever to navigate the app and find friends, groups, and brands.
Their universal search bar now allows you to dig out the best content through descriptive words and phrases that relate to a geo-location or events. With this universal search update, "Our Story" is another tool that will aggregate user generated content into a curated slideshow that centers around holidays and major events.
Users will no longer have to pick a specific "Story" to have their user-generated snaps be featured, but Snapchat will figure out how it wants to aggregate the content, allowing it to create "Our Stories" based on submission trends.
How can I use this to help my business or brand?
Snapchat is the newest and hottest thing on the market for brands and businesses that want to target Millennials and Generation Z by the swarms. Although Snapchat's visual search capabilities may require a bit more manual work than other platforms on this list, it allows you to seamlessly interact with this already "ad-weary" audience, who can give your branded content a chance.
Google
Of course, we cannot speak of search without the G-Word… Google. The name is synonymous with search, and Google has expanded heavily on its image search and shopping experience.
The Millennial generation likes authentic brands that are interesting and engaging, so it's important to tug at the heartstrings of Millennial fans. You can do so by using the visual carousel, that features products similar to a user's search query, or curate shoppable looks supplied by influencers.
How can I use this to help my business or brand?
Google is a no-brainer if you're looking to get as many eyeballs within your targeted online audiences. Consumers are already accustomed to the Google search ad results, so there is built-in trust for the Google algorithm, which is the first place users look to find answers for almost anything. This is a fail-safe play to stretch your advertising and marketing budget to get as much reach as possible with a trusted product.
Next Steps for Your Brand
As the next chapter of content and commerce, through the lens of the camera, evolves and becomes more and more sophisticated, so will the consumer habits in searching, discovering, and taking action online.
That's why your site and content destinations need to be optimized for the next era of social and mass communications. One core area of real estate, across all your pages, is the share buttons. Check out our social media buttons, which feature all of the most popular channels, including Facebook share button, Pinterest button, as well as mobile choices like SMS and WhatsApp share button. Best of all, they look great on every device and are simple to configure and install.
Once your key assets such as share buttons, a well-developed content strategy, and SEO benchmarks (along with other best practices) are in place, your brand will be prepared for these digital platform behemoths to double-down on visual search technologies and innovations over the next few years.