The perfect Facebook event photo size (plus tips & tricks for engaging Facebook event photos)
Promoting an upcoming event with a Facebook event page? You'll need a stellar cover photo. If you're thinking you can just use the cover photo from your regular Facebook page, think again.
The ideal size for a Facebook event cover photo differs from both your personal profile cover photo and your Facebook page cover photo (check out our cheat sheet to get the details on those social media image sizes).
Here's what you need to know to create a Facebook event cover photo that hits the mark:
The right Facebook event cover photo size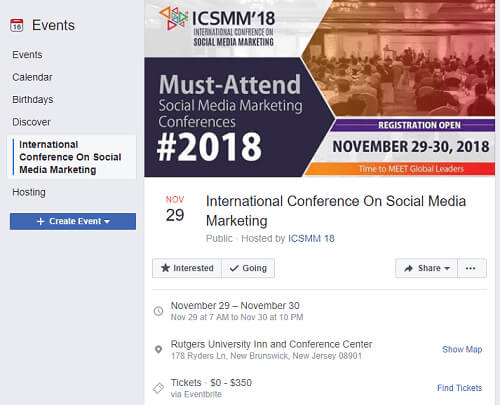 Screenshot via Facebook, International Conference On Social Media Marketing
The cover photo is the first thing potential attendees will see when they land on your event page, so you want to make that first impression count.
Facebook recommends using photos that are 1200 x 628 pixels in size, which is a 2:1 ratio. Because Facebook is always making changes, the recommended size for event cover photos has changed several times. Recently, the recommended size for event cover photos was 1920 x 1080 pixels, a 16:9 ratio, and some experts suggest using these larger dimensions as a general rule to ensure that your cover photo looks crisp and clear across all devices.
Facebook scales down your event cover photo to minimum dimensions of 470 x 174 pixels, which is the size of the image that shows up in the feed.
Another thing to keep in mind: If you use a cover photo smaller than the recommended 1200 x 628 pixels, Facebook will enlarge it to fit. And that means a stretched-out, distorted cover photo. As a rule of thumb, go with the recommended size (or as close to it as possible) to avoid cropping or distortion.
Using event videos
For those who really want to stand out, Facebook now allows the use of videos in place of an event cover photo. The recommended size for videos is the same as for event cover photos: 1200 x 628 pixels, at a 2:1 ratio, and the recommended length is 30 seconds to 5 minutes (the maximum length for an event cover video).
Yes – you can have a 5-minute video to introduce your event in that coveted cover photo spot! Just be sure that your content, whether you're using a cover photo or video, adheres to Facebook's content guidelines.
Tips & tricks for creating a stunning Facebook event cover photo
Ready to create an amazing event cover photo? Keep these tips and tricks in mind.
1. Opt for custom event cover photos vs. themes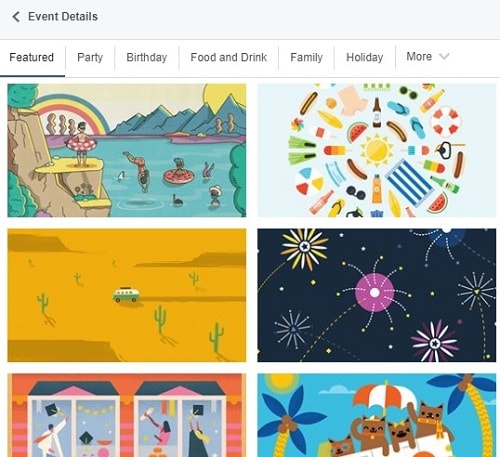 Screenshot via Facebook
When you create an event page, Facebook allows you to choose from a few themes, such as food and drink, holidays, birthdays, and more. Selecting one of these options pre-loads an image into the cover photo spot. So, you could make quick work of your Facebook event cover photo by using one of these options, but that doesn't give your event a custom feel. There are no built-in video options to choose from, though, so if you want to go the video route, you're entirely on your own.
2. Use templates and design tools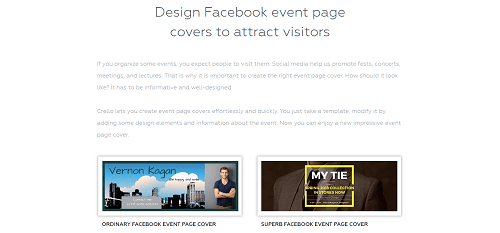 Screenshot via Crello
If your graphic design and photo editing skills aren't exactly on point, there are plenty of tools you can use to make a professional-looking event cover photo, such as:
And, if you're looking for some design inspiration, most of these design tools have hundreds of templates you can customize with your own personal touch.
3. Highlight important event details in your cover photo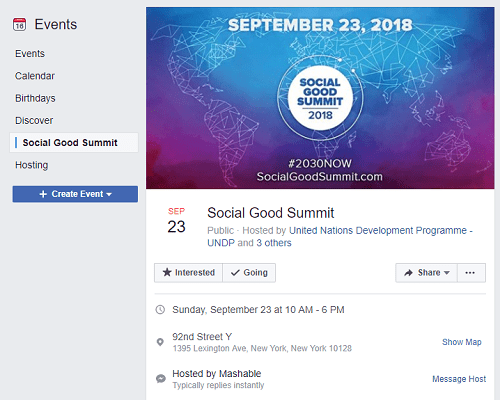 Screenshot via Facebook, Mashable Social Good Summit
Your event cover photo is valuable page real estate, so take advantage of it. Add text in a contrasting color with your event name, the date and time, location, or other need-to-know details for attendees. But, do keep in mind that Facebook doesn't allow cover photos to be jam-packed with a ton of copy, so make sure your text doesn't take up more than 20% of the image.
This is an especially important consideration if you'll be promoting your event with Facebook ads, as your ads won't be approved if your images are too copy-heavy. And if you're using ads to boost event signups, don't forget to tap into Facebook Audience Insights to better ad targeting. You can even retarget people who have responded to your event with targeted ad campaigns.
Not sure how much text you have? Use this handy tool to find out.
4. Keep your audience in mind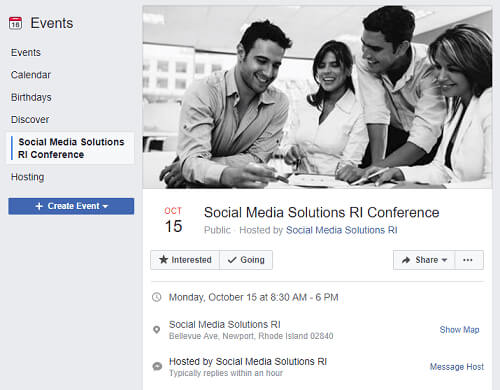 Screenshot via Facebook, Social Media Solutions RI Conference
Think about who will be attending your event, and what they hope to achieve by being there. Are they just out for a fun night on the town? Is it a conference or learning event? Choose images that will resonate with your audience and make them feel like your event is the place to be. If you're holding an industry conference, for instance, photos from past events can make the perfect backdrop for your event cover photo.
Facebook events are powerful marketing tools for both live and online events. Whether you're setting up your first event or your hundredth, getting your Facebook event cover photo right is key to generating buzz and getting signups.
If you're looking for a way to grow your Facebook followers and get more people to share your content, install the Facebook follow button and share button on your site.
Loving the Facebook follow and share buttons? Consider installing these share and follow button: