Striking images, eye-catching bursts, and engaging video are shaping the 2018 online landscape, with digital visual content a dominating force in everything from marketing to interpersonal connections.
Instagram is a big part of that force, with more than 800 million users worldwide and growing by the hundreds of millions every year. That's huge potential for your business.
So, there's no doubt that Instagram has taken a front seat, if not the driver's seat in your brand's online marketing strategy. Good call.
But before you hit the gas, there's something you should consider: Instagram image sizes! What are the current restrictions, allowances, and dimensions, as of 2018? We have the details.
(And if you're here for anything but Instagram, check out our post on the best social media images sizes for all your networks.)
Need-to-know #1: Image shapes
It may be hip to be square, but even Instagram knows that choice is king. And as of 2018, Instagram has branched out from its original square-only format to allow for both landscape (horizontal) and portrait (vertical) images.
Square photos
Ah, the old standard! Instagram's original format, square images are still incredibly popular. It's an excellent shape for close-ups, follow-worthy quotations, and images that focus on a single subject. What you need to know hasn't changed: Square images probably aren't native to your camera (but they likely are to your cell phone), so be sure to crop your photos before uploading (aspect ratio of 1:1), so your images aren't subject to wonky, random bot cropping.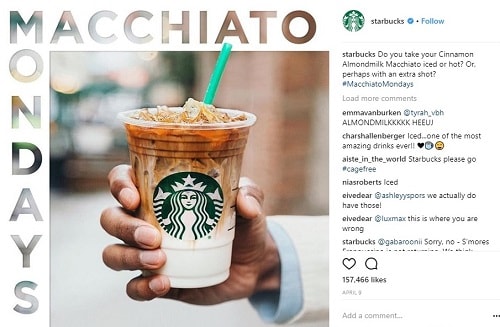 Screenshot via Instagram by Starbucks
Portrait photos (vertical images)
Portrait photos are an exciting circa 2015 addition to Instagram, allowing users to upload the vertical images of their choosing. Portrait photos are great for portraits (imagine that!) or for highlighting vertically oriented subjects (think waterfalls and skyscrapers). You can upload almost any ratio (officially: between 1:1.91 and 5:4) but know that 3:2, 4:3, and 16:9 aspect ratios are standard.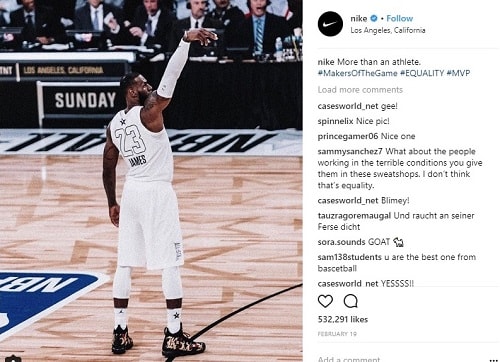 Screenshot via Instagram by Nike
Landscape photos (horizontal images)
The 90º neighbor of portrait photos, landscape images display their subject horizontally. True to name, landscape photos are an excellent choice for scenery and for images that rely on white space or bokeh (unfocused) backgrounds. Again, any aspect ratio from 1.91:1 and 4:5 is accepted and standard aspect ratios are 2:3, 3:4, and 16:9, so feel free to adhere to those for uniformity, or deliberately choose a different aspect ratio to stand out.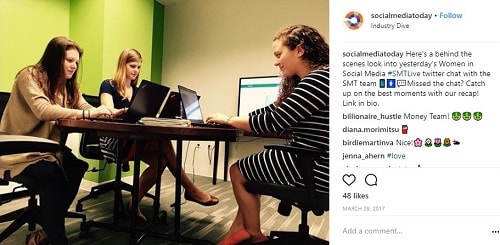 Screenshot via Instagram by Social Media Today
Need-to-know #2: Instagram image dimensions
The first thing you should know is that image upload size isn't the same as image display size. (Wait, what?) Think about it this way: An image on a 4.7" screen will be much smaller than that same image on a 5.5" Retina display.
So, the very first thing you should know is that Instagram resizes images to their standards, making the following dimensions more of a minimum than a maximum. Rule of thumb: Absolutely treat them as a minimum to future-proof your Instagram. (Side note: There are other factors that affect display, such as a given phone's Instagram app version and support for high-resolution photos. Still, upload in the highest resolution possible!)
Square Photo Dimensions: 1080 x 1080 pixels (1:1 aspect ratio)
Portrait Photo Dimensions: 1080 x 1350 pixels (5:4 aspect ratio)
Landscape Photo Dimensions: 1080 x 607 pixels (standard 16:9 aspect ratio but as shallow as 1.91:1)
Note, however, that while your images won't display at these dimensions– for example, Instagram landscape images currently max out at 600 x 337 pixels – as of 2018, it appears that Instagram does store the 1080 x 607-pixel version on its servers. Again, future-proof.
Need-to-know #3: Instagram Stories dimensions
Instagram Stories were the runaway hit of 2016-2017 and promise to continue their run in 2018. They may be a Snapchat clone, but they're still beloved.
The problem is there's no one standard size for Instagram Stories; display dimensions depend on the device on which they're viewed. That said, and again with the approach of meeting the widest demand possible and future-proofing your content, take the leap to a portrait 9:16 aspect ratio with a resolution of 1080 x 1920 pixels.
Screenshot via Instagram by Beyond Yoga
Need-to-know #4: Instagram video dimensions
All this talk of photos and it would almost seem as if we had forgotten video. Fear not, avid marketers, we have you covered. As of 2018, Instagram videos can display as square video (still the most successful Instagram video size), portrait video, or landscape video.
Currently, videos hover at the same dimensions as photos. To review:
Square Video Dimensions: 1080 x 1080 pixels (1:1 aspect ratio)
Portrait Video Dimensions: 1080 x 1350 pixels (5:4 aspect ratio)
Landscape Video Dimensions: 1080 x 607 pixels (16:9 aspect ratio)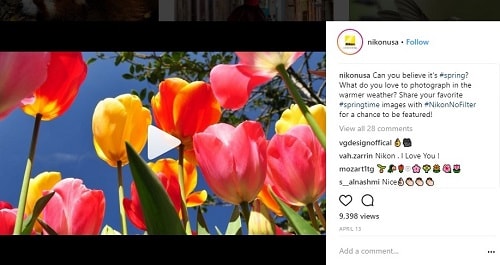 Screenshot via Instagram by NikonUSA
That said, video doesn't display in the above dimensions. Currently, it appears that square video is capped at 600 x 600 pixels; portrait video displays at a peculiar 481 x 599.484 pixels; and landscape video comes in at 600 x 336.5 pixels on standard displays and 1200 x 673 pixels on Retina displays and/or full view.
Want an effortless way to get more Instagram followers?
Now you know how to maximize your dimensions (and impact) on Instagram in 2018. As you create all that awesome content, don't forget to promote it! The ShareThis Instagram follow button is a perfect tool to boost Instagram engagement, and it's also mobile optimized, lightweight, and easy to configure and install. Check it out!
Want to effortlessly get more followers on your favorite social media sites?