You put tons of work into creating amazing Instagram posts and images to capture the attention of your followers (and get more of them), but even the best-crafted posts will flop if you're not picking the best time to post on Instagram.
Posting on Instagram at the right time is just as important as the quality of your posts. But here's the thing: the best time to post isn't necessarily the same for every brand. Even though many studies show that certain days of the week and time of day are generally better, the standard practice doesn't always work for your brand. It's a good starting point, but you still need to experiment by testing out different posting schedules to figure out what works best for your brand and followers.
Like all social platforms, Instagram uses a dynamic algorithm that changes from time to time, making things a bit more complicated. If you've found the prime time to post your content, don't hang up your hat just yet – you have to stay on top of those algorithm changes by testing, measuring, and refining your strategy (lather, rinse, repeat). Instagram's algorithm pays attention to how much engagement your posts get and how quickly users engage with them, so you should find that sweet spot to increase your visibility.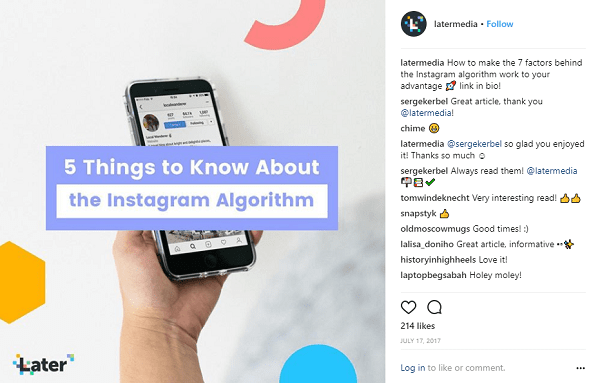 In the current state of affairs, these tips will help you get the attention that your IG posts deserve.
What's the Best Time of Day to Post on Instagram?
The best time of day to post on Instagram is the time when most of your followers are online, obviously. But when do people use Instagram? According to the Pew Research Center, half of Instagram's users use the app every day.  Awesome news, right? You can post on IG every day of the week! Not so fast.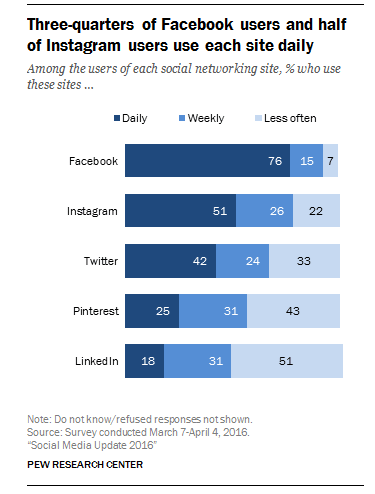 Hubspot found that Mondays and Thursdays are generally the best days to post on Instagram, at any time of day, other than between 3:00 p.m and 4:00 p.m. Some brands – not all – also find that Instagram posts do well during the Monday morning commute, between 8:00 a.m and 9:00 a.m.
If you're posting videos, though, you'll want to schedule those posts between the hours of 9:00 p.m. and 8:00 a.m., any day of the week. (Turns out that watching Instagram videos at the office isn't something many people do. Who knew?)
Not all studies have the same findings. Latergramme, a service that lets users manage and schedule Instagram posts,  analyzed 61,000 posts to find out when they get the most likes and comments and found Wednesdays to be the best day (although not by much). The best times to post? 2:00 a.m. and 5:00 p.m. Eastern time.
Sprout Social did a similar analysis and found that the Instagram posts tend to get the most engagement on:
Wednesdays at 3:00 p.m.
Thursdays at 5:00 a.m., 11:00 a.m., 3:00 p.m., and 4:00 p.m.
Fridays at 5:00 a.m.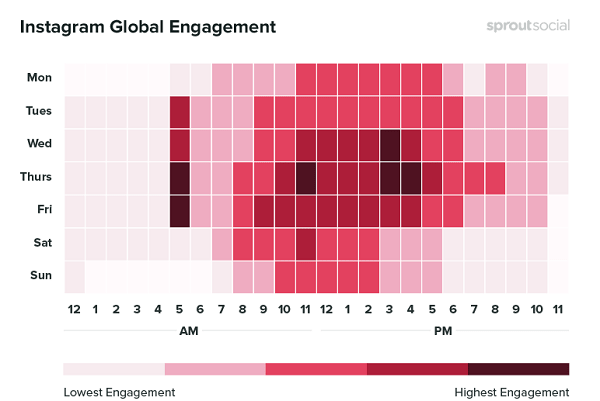 In Sprout Social's analysis, posts get moderate-to-high engagement on Wednesdays, Thursdays, and Fridays during the day, from 9:00 a.m. or 10:00 a.m. to about 5:00 p.m.or 6:00 p.m., and from 11:00 a.m. to 12:00 p.m on Saturdays. Posts between the 5:00 a.m. to 6:00 a.m. hour on Tuesday through Friday also tend to get good engagement.
Confused yet? As you can see, there's really no one-size-fits-all. Our take? You can expect to get better engagement on Mondays, Wednesdays, and Thursdays, at a few different times of day:
The morning commute: 8:00 a.m. to 9:00 a.m.
Late-nighters: 2:00 a.m.
End of the 9-to-5 workday: 5:00 p.m.
It's also worth experimenting with Wednesdays, Thursdays, and Fridays between 9:00 a.m. and 6:00 p.m. Don't forget that videos get the most engagement between 9:00 p.m. and 8:00 a.m., so you'll want to put video content on a different schedule. You can use these times as your starting point,  but measure the results and adjust your strategy accordingly as you discover the time when your followers are most engaged with your posts.
What's the Worst Time to Post on Instagram?
Where there's the best time, there's also the worst time.  A lot of people think that simply posting to Instagram in the evenings and over the weekend is the best strategy for getting the most engagement, but that's not actually true. We've already established that the best days to post on Instagram are weekdays: Mondays, Wednesdays, and Thursdays. What about the worst? Hubspot found that Sunday posts get "very low engagement" compared to other days of the week, and both Sprout Social and Latergramme also found that Sunday gets the least love.
Other than the 3:00 p.m. to 4:00 p.m. hour that Hubspot suggests avoiding, Latergramme found that the worst time slots to post are 9:00 a.m. and 6:00 p.m. These times fall close to the best times to post (the 8:00 a.m.to 9:00 a.m. morning commute hour and 5:00 p.m.), meaning you need to be uber-specific with your Instagram posting schedule to hit those sweet spots – while keeping time zones in mind. (More on that below.)
How to Find the Best Time to Post on Instagram for Your Brand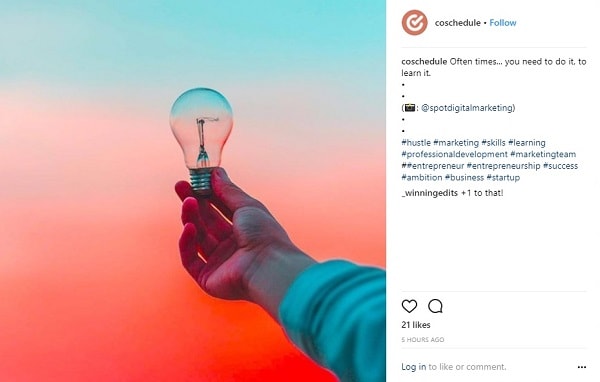 It's a good idea to start with the tried-and-true days and times we discussed above.  But if your followers aren't like most people, you could be missing out on reaching most of your audience. If you're looking for a more automated solution, try the free tool from Hopper HQ that lets you connect your Instagram account to help optimize your posting times.
Additionally, Later has some helpful suggestions to simplify your Insta game:
Know where your followers are: If you're on the East Coast but most of your followers are on the West Coast, you should schedule your posts with time zones in mind. The same is true for brands with followers spanning across multiple time zones – in these cases, it might actually benefit you to post at odd times for the best chance of reaching as many people as possible. Midnight Pacific time is 8:00 a.m. in London – meaning there's a good chance you'll reach some followers in both locations.
Focus on off-work hours: 9-to-5-ers don't tend to spend a lot of time on Instagram during the workday, but many do check in over lunchtime, between the hours of 11:00 a.m. and 1:00 p.m. After work, between 7:00 p.m. and 9:00 p.m., can also be a good time to reach your Instagram followers.
Schedule important stuff on weekdays: There's no rule that says that you can't post on IG on the weekends. But because your posts probably won't get as much engagement on Saturdays or Sundays, it makes sense to save your important posts for weekdays. The difference in engagement between days of the week isn't huge, so you can still get some leverage by posting fun, informational, or entertaining content on the weekends.
Schedule your posts: Sitting around and watching the clock to hit the post button at the most opportune minute isn't the best use of your time. Schedule your posts ahead of time so you don't have to be a slave to the clock.
Use Instagram Insights to measure your progress: You can find top time zones and other helpful data with Instagram Insights. You can even find out when your followers are most active on the platform with Instagram Insights, which makes it easy to choose the best time to run some engagement tests. Schedule some posts for different time periods based on these insights and keep track of likes and comments. After gathering data for a few weeks, you will have an easier time pinpointing the best days and times to reach your followers.
If you're trying to find the best time to post on Instagram, the bad news is that there's no clear-cut, one-size-fits-all answer. The good news, though, is that there's plenty of data you can use as a launchpad to get started!
Want An Effortless Way to Get More Instagram Followers?
Picking the best time to post on Instagram is a great first step in getting more engagement. In addition to timing your posting strategy, you'll want to consider all the ways you can leverage Instagram for your benefit – Foundr has a robust guide on this very topic.
In the short term, you can get more engagement from Instagrammers by installing our Instagram follow button. Beautiful, quick to install, and easy to configure — our Instagram follow button is designed to help you instantly grow your audience on Instagram.  Take 5 minutes now to install it, then sit back, and watch your Instagram follower number grow!
We also have a number of other resources on getting more Instagram followers, including our post on Instagram giveaways with best practices around all things giveaways including tips on giveaway captions.
We share even more ideas on how to grow your Instagram following on our blog, we've also created a series of free Instagram resources, including: our guide to the Instagram character limit, our guide on how to share a post on Instagram, and our guide to creating the perfect Instagram profile photo.
Looking for more social media follow buttons?