Welcome to the Pinterest for Business series, in which we explain how Pinterest works and share tips on how to use Pinterest for business. This is part 3 of the series.
Part 1: 5 Ways to Drive Massive Traffic via Pinterest
Part 2: How to use Pinterest to promote your business and blog
Does your business have a successful presence on Pinterest? Is it effortless for you to get Pinterest followers?
The social network doesn't get as much attention as buzzworthy networks like Facebook and Instagram, so it's likely not the first that comes to your mind when brainstorming where to engage with your audience and grow your brand.
However, the fact that it may fly under the radar is a huge benefit to social media marketers.
While brands are struggling to stand out in saturated, crowded places like the Facebook news feed (whose organic reach has never been lower), you can take advantage of Pinterest, a medium where niche communities thrive, visual content wins, and an audience is waiting for you — if you know where to find it so you don't have to buy Pinterest followers.
There are many ways you can get Pinterest followers for free. In this post, we'll walk you through the process of growing and engaging your Pinterest audience, inspired by successful brands that cracked the code of how to get more followers on Pinterest. Don't forget to take notes of these Pinterest followers hack!
Optimize Your Pinterest Presence for Discovery
The first step in getting Pinterest followers is making your profile easy to follow. You want your whole Pinterest presence, from your name to your board descriptions and image names, to be designed to bring the right followers to your profile.
When your ideal customers can find you organically, your audience growth will become more consistent and independent of your own activity on the site. Here's what you can do to get found:
1. Don't think of Pinterest as a social network
This is the first mistake most social media marketers make on Pinterest. Unlike with Facebook or Twitter, people don't go to Pinterest to socialize with others, they use it to find things. They're searching and browsing, discovering new things to try, etc., as if they're using search engines.
For Melyssa Griffin, founder of MelyssaGriffin.com and the Pinterest marketing program Pinfinite Growth, this realization was the first step in a smart strategy that has grown her business's Pinterest community to over 50,000 followers:
"The most successful thing I did was stop thinking about Pinterest as a social media platform and start thinking about it as a search engine. For years, I had been applying search engine optimization (SEO) to my blog posts and getting more traffic from Google, all while neglecting my Pinterest account as an afterthought. One day it clicked: what if I use the same strategies on Pinterest that I'm already using to get organic traffic from Google?" Melyssa explained.
2. Use keywords in your Pinterest profile and content
So what does "treating Pinterest like a search engine" actually mean? Thankfully, it's a lot simpler than dealing with Google. In fact, simply making an effort to research strategic keywords and use them in all parts of your Pinterest presence can provide big gains.
For Melyssa, the benefit was immediate:
"I started doing things like adding keywords to my pin descriptions, image names, board titles, and profile…and voila! Within a month, I noticed an uptick in traffic to my website. An uptick so large, in fact, that my email list gained nearly 1,000 new subscribers in that first month alone! (And this is from someone who spent 6 months prior floundering with her email list growth.)"
Just like with web SEO, you don't want to speak in nothing but keywords and jargon. So instead of writing keyword-heavy pin descriptions stuffed with unnatural keywords, use natural-sounding keywords in different areas of your profile, like your bio plus your board and pin descriptions.
3. Perform basic keyword research on Pinterest and Google
Just like with Google SEO, you don't want to randomly select words to optimize your content around. You'll want to make sure that you're selecting keywords people are using, and create keyword lists.
Brian Lang suggests starting with Google's Keyword Planner, but remember that information from it should be used more as a guide, as people use and search for things on Google differently than they do Pinterest, plus they attract very different demographics.
He also recommends using Pinterest's own search bar to get keyword ideas: "Pinterest will suggest keywords that other people have searched for."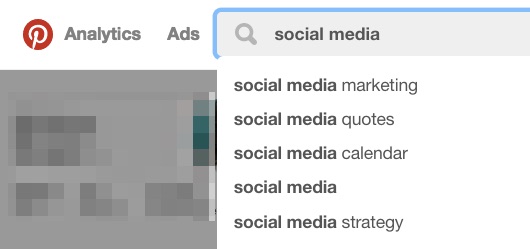 Later in this post, we'll also talk about Pinterest suggested hashtags, which can be helpful for keyword research.
4. Brainstorm words your customers would use
In addition to conducting keyword research, it's important to think about your own customers, clients, and target audience. Words and phrases may be popular on Pinterest or Google, but they're not the way the people you're looking for would describe things.
"You need to make sure you are using the keywords your ideal client would be searching for," says Rachel Ngom, CEO at She's Making an Impact. You don't want to attract a Pinterest audience that's the wrong audience for your products and services.
For example, if you specialize in gourmet food recipes and supplies, you wouldn't want most of your followers to be mothers looking for easy snacks for their children.
Plan Your Pinterest Content Marketing Strategy
Like all social media marketing, you need to formulate a plan first. Because Pinterest is used differently than other networks, the content and approach you take on say, Instagram or Snapchat, likely won't be your most successful strategy on Pinterest.
When it comes to creating content that gets followers, remember to think about your target audience and how they would use the site.
5. Focus your content to get your pins noticed on Pinterest
For Rachel, honing in on her Pinterest content was important in finding the right audience for her business:
"Instead of trying to be everything to everyone, I focused on one specific topic. For my fitness business, this was helping women with eating high fat low carb and intermittent fasting instead of being just a general fitness pro."
She was able to generate 700 qualified leads for a free challenge and ebook this way. If she had been talking about anything related to health at all, her launch could have made much less of an impact on a less qualified audience.
6. Your Pinterest niche audience is more popular than you think
From its early days, Pinterest has had a reputation for being mainly about food, fashion, and makeup and mainly for women. But in reality that has never been the only content or people there. In fact, according to Pinterest, 50% of all new signups are men.
Michelle Schroeder-Gardner of Making Sense of Cents runs a finance website, not something assumed to be perfect for Pinterest. However, she's grown a Pinterest following that's impacted her business:
"I started being active on Pinterest a few years ago, back when I was told that only DIY, fashion, food, etc. bloggers would have success on it. Over and over again, I was told that a financial blog would have no luck. With very minimal work, I have 99,400 Pinterest followers – and that's with everyone telling me that I was wasting my time."
7. Research what your Pinterest audience likes
Before creating new content for Pinterest, look at what your niche or audience has enjoyed most in the past. Researching viral pins or popular visual content trends can help you design pins that will attract and convert a new follower.
Emile L'Eplattenier, FitSmallBusiness.com's real estate editor, explained their strategy for growing that section of the site's Pinterest following:
"We produced content that we knew our audience would respond to enthusiastically. This step involved a keyword research to determine the types of subjects people in our niche were searching for, as well as using Buzzsumo to find out which topics had the most engagement on social media."
Create and Curate Content on Pinterest Consistently
It's important to be active on Pinterest regularly, whether you're engaging manually or scheduling pins in advance, as you'll see many experts have success with.
Pinterest's smart feed loves new, fresh content, so it's important that your account never gets too stale. You can regularly engage your Pinterest followers by creating visual content, repurposing content from other places, and curating content from other people.
8. Use infographic pins on Pinterest
Because infographics can easily convey information and are optimized for Pinterest's feed, they're a longtime favorite on Pinterest.
"I have noticed that [infographic pins] get the most engagement of all the content I've posted to Pinterest and they drive the most traffic by far of anything I post to the platform," says David Erickson, VP of Online Marketing for Karwoski & Courage.
It's not an uncommon claim!
9. Repurpose content as infographics for Pinterest audience
Lots of brands think that they can't succeed with Pinterest because they don't have a lot of "pretty" content. But Pinterest is for more than that, and any of your existing content can be conveyed in a way that works on Pinterest.
For example, infographics are very popular because they visually convey information well, and can be optimized for Pinterest's ideal dimensions easily.
"What does this mean for marketers?" Sara McGuire, content marketer at Venngage, explains. "Pinterest offers a great opportunity to repurpose your blog content, reports, ebooks, and other text content into infographics. [They] are the perfect type of visual content for Pinterest. You can create infographics to share hacks, explain processes, offer tools, share recipes…anything that requires summarizing and visualizing information."
They've even analyzed infographics on Pinterest to determine which types do best, so you can adjust your visual content based on that as well.
10. Curate pins from other users
One of the golden rules of social media is that not all of your content should be about you. On Pinterest, not all of your content should be created by you. Curation is an important way to engage.
Studies have found that around 80% of Pinterest content is repins. While contributing original content to be repinned by others is important, you also need to be sure to do the same in return and participate in the Pinterest community by engaging with other people's content.
"By repining relevant non-branded content, you will increase the likelihood for your profile name to show in feeds. Remember, Pinterest starts at the pin-level," reminds Marissa Heckman, Organic Social Media Project Manager at Power Digital Marketing.
11. Optimize your visual content for Pinterest's feed
When you are creating your own content for Pinterest and designing new images, keep Pinterest's user interface in mind. Create images that are longer than their width to make the most of the real estate each individual pin can take up inside the feed, for example.
CoSchedule suggests the following tips: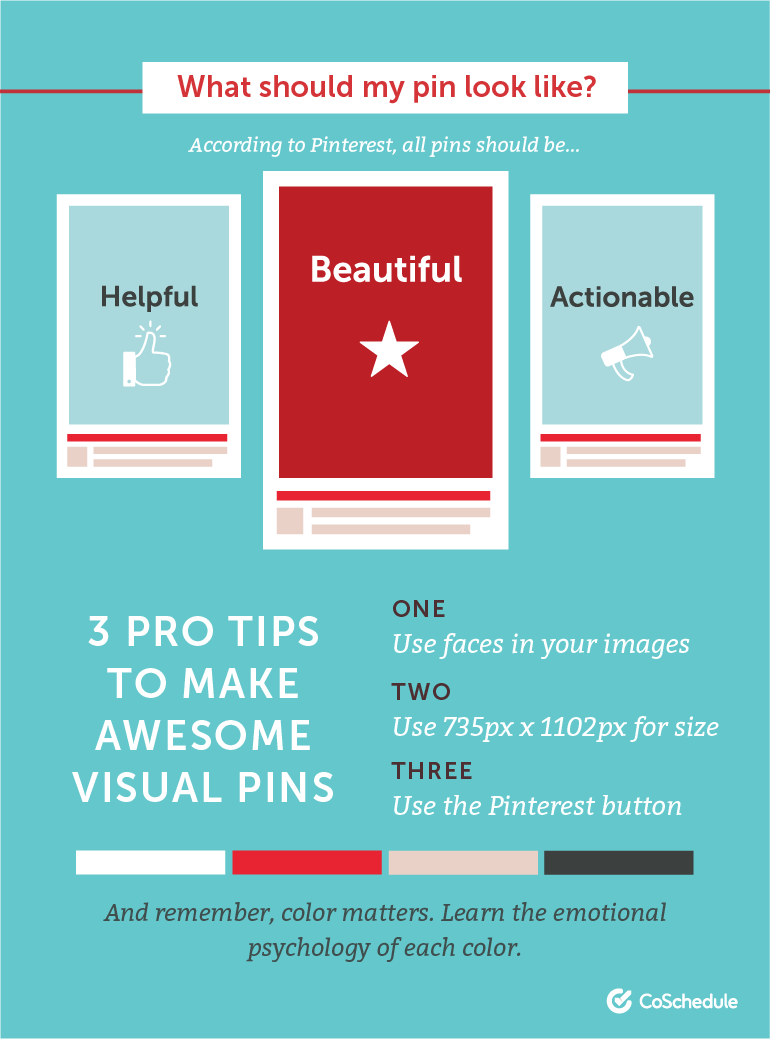 12. Reuse your best pins
Like other social media channels, Pinterest moves fast, and content can be pushed out of the feed quickly. It's important to reuse your best Pinterest content to resurface it in front of new audiences in the feed.
"I use BoardBooster to continuously re-pin the pins from specific boards on my account, especially my blog articles, podcast episodes, and my highest traffic boards. BoardBooster removes the lower performing pin after a couple days so there are no duplicates! By keeping these pins in the view of users, they receive higher engagement, my Pinterest followers have doubled, and Pinterest is one of the top referral sources for website visitors!" says digital marketing strategist Kim Sutton.
Use Pinterest Hashtags Strategically
It was only in 2017 that hashtags became a widely accepted best practice on Pinterest. Before that, as Tailwind explains, "they [didn't] work the way people expect, are confusing, and could actually work against you by sending people to other Pinners' content."
Since Pinterest encourages to use hashtags, it's time to start taking advantage of them to grow your following.
For Rachel Baileys of The Scarpetta, this has been able to consistently create pins with over 12,000 impressions per day, and "with the higher impression rate, this leads to a steady stream of new Pinterest followers."
13. Hashtag your pins with keywords
Using hashtags for the different keywords you're targeting, the phrases users are searching for, is a great way to get started with them. They could help your pins get discovered through those searches.
"Using hashtags is a good way to get recent Pins into an alternate search on Pinterest. People can see who Pinned and easily get to their profiles and follow from there if they want to," says Alisa Meredith, Content Marketing Manager at Tailwind.
14. Focus on relevance over audience size to get qualified Pinterest followers
Pinterest specifically mentions that you can use up to 20 hashtags on a given pin. However, Pinterest hashtags are different than something like Instagram, where a lot of general hashtags are popular.
Instead, use only as many hashtags as needed. Depending on how specific your content or target is, that's likely less than 20.
15. Look at Pinterest's suggested hashtags
Did you know Pinterest had suggested hashtags when you're typing in pin descriptions?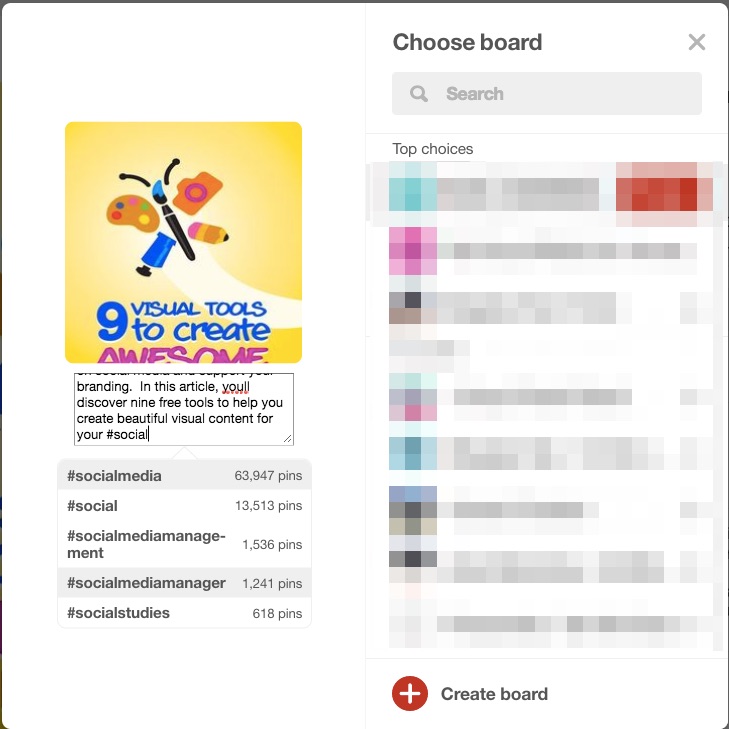 Play with suggested hashtags in your pin descriptions to find relevant ones for your pins. These can also serve as useful keywords to target with boards and other keyword optimization.
Engage With Other Pinterest Users
Don't forget about other Pinterest users too! While people may not use Pinterest in the same ways that they do Facebook or Instagram, there are lots of ways besides liking and Pinterest commenting to interact and engage with other users in the Pinterest community.
16. Follow related accounts in your niche on Pinterest
There's simply interacting and re-sharing others' content on a regular basis. As people check out who's interacting with them, genuine interest will be noticed.
This was one of the most effective things for Carmine Mastropierro, owner of Pierro Shoes:
"One great community feature is group boards, where multiple people can collaborate to contribute pins around the same topic. Because the board is shared between their profiles and audiences, it can be a great way to get your profile and pins seen and grow your followers."
17. Join group boards in your niche to get your pins noticed on Pinterest
One great community feature is group boards, where multiple people can collaborate to contribute pins around the same topic. Because the board is shared between their profiles and audiences, it can be a great way to get your profile and pins seen and grow your followers.
As always, it's important to remember to stay focused on finding your right audience. Eventistry by Alecia grew their Pinterest traffic from 3,000 to 120,000 monthly visitors in just 3 months by joining the right group boards. Owner Alecia May even shared a screenshot with us: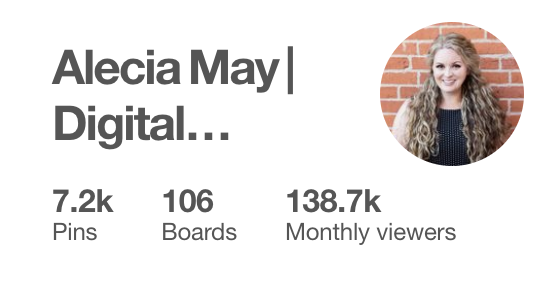 18. Start your own group board to get Pinterest followers
If you want to go beyond using other people's group boards to expand your audience, you can grow your following even further by starting your own. As you're featured as the curator of the board, your visibility grows as it grows.
"I created group boards with lots of high-quality pins and then invited others to join in. I kept the group boards totally open so other bloggers could invite their fans and followers to join as well. Some of my group boards have over 3,000 contributors which have led to a huge growth in pins and followers," says Liz Thomson of I Heart Vegetables.
19. Join Tailwind Tribes
The popular Pinterest marketing tool Tailwind has a great feature called Tailwind Tribes, which lets you join together with a group of other pinners to easily share and repin each other's content.
"It's an incredible feature from Tailwind that allows you to share your pins in the tribe, and share other people's pins from within the tribe. It has grown my reach an insane amount!" Rachel raved.
Promote Your Pinterest Presence
One of the smartest social media marketing tactics to keep in mind is to always leverage your existing audience where you can. You've already built a customer base, an email list, a following on other social media channels, etc.
You can and should use those people to grow your Pinterest following.
20. Include pins as images in your blog posts
When you're creating content that will be promoted on Pinterest, you'll want to create optimized images for them. But you can take it one step further.
Instead of uploading a pinnable image to your blog and hoping readers pin it and share it with their own followers, incorporate pins themselves into blog posts. Once you've uploaded an image to Pinterest, you can embed it in blog posts to encourage repins, which makes it easy to follow your profile as well.
See how Louise Myers embeds infographics pins in her blog posts:
21. Include Pinterest calls-to-action in your content
Another great way to get your existing audience in other places to follow you on Pinterest is to include a clear and direct call-to-action button inviting readers to engage with your other content on Pinterest.
For example, look at how Kettle and Fire includes a sentence about pinning their keto diet infographic in a blog post's conclusion:
That one blog post alone has been pinned over 108,000 times!
22. Share your Pinterest content on other networks
The last main way you'll want to share your Pinterest profile with your existing audience is by sharing pins on other channels as repurposed content. For example, Alisa Meredith suggests, "On Facebook, share an image from one of your popular Pins."
Or, try linking to one of your most popular boards in a customer newsletter as a way they can engage with you, or tweet out an invitation to your group board.
Leverage Pinterest Analytics to get more Pinterest followers
Once you have a Pinterest marketing strategy and have been implementing it for a short period, it's time to analyze it and adjust accordingly.
Learning what's working and what's not is the key to any social media marketing strategy. Plus, Pinterest's analytics have helpful information for techniques like influencer marketing and finding group boards to join.
23. Find other influencers in your niche
Alecia was able to leverage Pinterest analytics to find the right Pinterest group boards by first figuring out the influencers in her niche, then looking at their own group boards:
"I recommend Pinterest Analytics. Once you're logged into Pinterest, click the upper left, then "People You Reach" then Interests. Toggle to Your Followers, not All Audiences. Then scroll down to see Brands: Businesses Your Followers Engage," she explained.
24. Learn what content works on Pinterest
If you're adjusting a social media and content strategy for Pinterest, use Pinterest analytics and website analytics to learn and determine how your content from other channels performs on Pinterest. You can then optimize which content you share there around that.
For example, if your company's blog post tutorials receive a ton of engagement there but industry update blog posts don't, adjust your content strategy to use less industry news on Pinterest.
Experiment With Promoted Pins
Finally, even though it's great to get Pinterest followers for free with the aforementioned Pinterest followers hack, we're in an era where organic social media often needs to be supplemented by social media advertising. While Pinterest promoted pins don't get the buzz that something like Facebook advertising does, it's a great option for brands with niches that do well on Pinterest.
25. Run promoted pin campaigns
Promoted pins can be a great way to get in front of audiences that might not find you through other methods talked about in this post. When Emile of FitSmallBusiness.com explained their strategy to us, he explained, "Buying traffic on Pinterest is not 'cheating'. You're simply putting your content in front of more people."
Promoted pins have even been found to get a lot of engagement once the paid campaign has ended.
Want An Effortless Way to Get More Pinterest Followers?
In addition to using the tactics above, you'll effortlessly grow your Pinterest following by implementing our Pinterest follow button. The ShareThis Pinterest follow button is mobile optimized, lightweight and easy to configure and install. Check it out!