LinkedIn isn't just for posting résumés and finding job opportunities. With over 500 million members across 200 countries, it's an important platform where publishers can share their content and reach new audiences.
Still, there are a few caveats to building your LinkedIn strategy. It won't look like your Twitter or Facebook strategy, for one. While those channels are great for sharing a variety of content with a large span of demographics, LinkedIn requires a different approach. And it's full of unique tools — such as Pulse, SlideShare, and Text Ads — to help you drive traffic and build engagement.
So, if you're ready to tackle this major social platform, let's get started. Here are five strategies you can use to grow your readership on LinkedIn.
Share content related to business growth and development
People use LinkedIn to grow professionally and further their careers. So you might leave those pop culture and entertainment articles out of your LinkedIn feed. Instead, it's best to share content that will inspire and inform people in the workforce.
Take BBC News, for instance. The publication covers tech, science, entertainment, and health. But its LinkedIn page is largely populated by posts related to business and finance.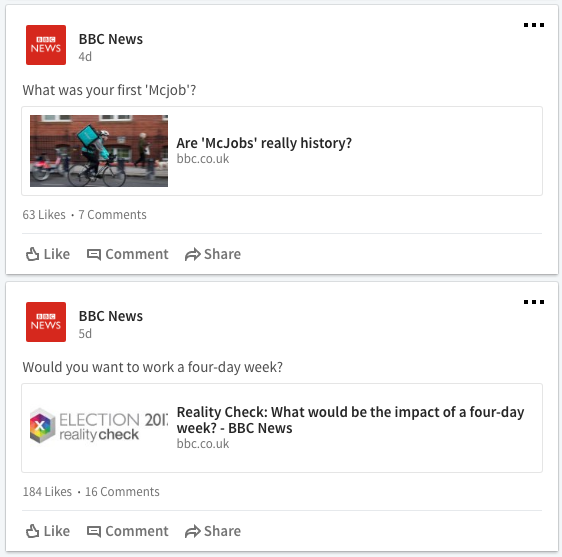 These articles fit right into people's news feeds, instead of interrupting their flow on the work-oriented website.
Post on Tuesday mornings
Common sense might tell you that LinkedIn users are most active during weekdays, when they're in the office and ready to tackle challenges at work. And common sense would be right!
According to HubSpot, it's best to post on LinkedIn between Tuesday and Thursday in the early morning, early evening, and at lunch. During these times, you can catch people on their commute as they're starting up and winding down from their workday, or at their desk while they're taking a break.
Going further, the prime sweet spot for engagement is between 10:00 AM and 11:00 AM on Tuesday. Think about it. People likely spend Monday catching up on work. By Tuesday morning, however, they're ready to gather input about new developments and see what industry experts are up to. That's where your publication comes in.
Publish content directly on LinkedIn
You're not limited to just sharing links on your page. You can also publish original content directly on LinkedIn. Simply click "Write an article" on your post box, and start drafting.
This strategy allows you to establish thought leadership, share your expertise, and grow your audience. After all, once someone engages with your article, it will show up in their connections' feeds, effectively increasing your reach. The content is also indexed by search engines, so it can appear in Google search results.
Just know that you can only publish original content from your personal account — not your publication's account. For instance, here are six recent pieces from Nicholas Thompson, Editor in Chief of Wired.
Still, you don't want to copy and paste articles from your website onto LinkedIn's publishing platform. This is a space designed solely for sharing your unique point of view about industry insights and professional challenges. To brainstorm your best topics, check out these tips from LinkedIn and join the Writing on LinkedIn group.
Include a LinkedIn button on your site
You're not the only one who can share content on LinkedIn. You can also empower your readers to share articles with their friends and colleagues by adding a LinkedIn button to your site.
That's why ShareThis launched a tool that lets you easily choose and customize your share buttons in just a few clicks. These share buttons are mobile-friendly and lightning fast, so users can spread the word without missing a bit.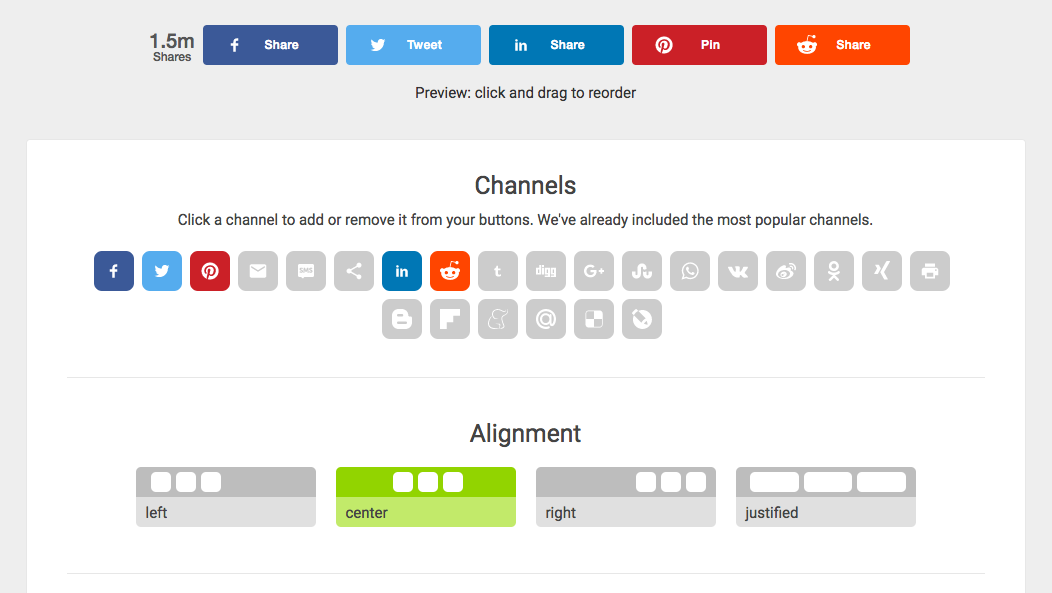 Just check out the range of social media buttons, select the LinkedIn button for your site, and start counting your shares.
Launch targeted LinkedIn Ads
You might want to share content with specific audiences or extend your reach beyond just your followers. That's where LinkedIn Ads come in.
With LinkedIn Ads, you can target your posts by a range of criteria, including a person's job, company, industry, skills, and field of study. You can also upload your own lists of website visitors and subscribers to nurture leads and build relationships.
To put these targeting options into action, there are three main types of LinkedIn Ads you can use:
Sponsored Content: Boost one of your regular updates so it reaches more people. You can also pair these with Lead Gen Forms, which invite people to sign up or subscribe for more content, such as a downloadable or newsletter.
Sponsored InMail: Deliver personalized messages right to people's inboxes.
Text Ads: Show your message on the right-hand side of people's LinkedIn pages.
Say you just published an article about travel tips for millennials who work remotely: LinkedIn Ads can help you get your piece in front of the most receptive audience and drive traffic to the piece.
Engage the largest professional network online
It can be tough to cut through the noise on Twitter and Facebook. That's why LinkedIn is such a powerful tool for publishers. It offers an opportunity to reach readers who are uniquely interested in a specific portion of your content — content that can help them build their careers and understand their industries.
If you're not familiar with LinkedIn as a sharing channel, it might take some getting used to. Once you do, however, you'll be primed to tap into the largest professional network on the Internet.
So, why not start now?
Publish original posts directly on LinkedIn. Launch targeted ads in people's news feeds. Plant a LinkedIn share button on your website. And establish your publication as a go-to source for helpful and inspiring content.
An audience of 500 million is waiting.