Most people who have used Snapchat are familiar with the app's fun filters and lenses — the popular features that attract millions of users to the app. But did you know that Snapchat users (both individuals and brands) can make their own custom, location-specific filters? These location-specific filters are called Geofilters, and brands are using them in innovative ways – promoting events, product launches, and even giving Snapchat users a behind-the-scenes look at the day-to-day happenings in their company.
Wondering how to make the most out of the Geofilter feature? We'll teach you everything you need to know about creating and using Geofilters to promote your brand.
What is a Snapchat Geofilter?
Geofilters allow both people and brands to create custom filters to layer designs, logos or names, artwork, and other elements over messages sent through the app. They're different from Snapchat lenses (like the famous dog lens that garnered many views) in that they're static, not animated. But that doesn't mean they have to be boring.
In addition to placing Snapchat follow buttons on your website, Geofilters are another way to bring more attention to your profile and boost your followers. Geofilters are so simple to create that they're well worth the effort.
To see examples of Geofilters that are available in your area, take a picture in the Snapchat app and then swipe across the screen. You can do the same after taking a video.
How to make a Snapchat Geofilter
There are two main ways to making a custom Snapchat Geofilter: in the Snapchat app or online. Follow these steps to make a filter in the app:
Tap your profile icon in the upper-left portion of the camera screen.
Tap the settings icon to select "Filters and Lenses," and then "Filters."
Tap the icon in the upper-right of the screen to make a new filter.
Select what your filter is for, and then choose a template.
To edit your filter, you can tap the template text to edit or drag and drop it into the trash. You can also add your own text, stickers, Friendmojis, and Bitmojis.
When you're happy with the result, tap the checkmark icon to complete your design.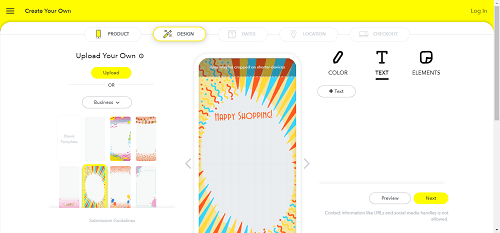 Screenshot via Snapchat
It's easy to make a Snapchat Geofilter in the app, but you can also make a Geofilter by using the image editing software and submitting it through your browser:
Create a 1080x2340px image in your preferred software with a transparent background. Snapchat provides templates that are compatible with Adobe Photoshop or Illustrator (download Snapchat's templates – in a zip file – here).
Have fun creating your design! Snapchat suggests using only the top 25% or bottom 25% of the screen so that it doesn't cover up users' images.
Save it as a PNG-24 file.
Go to Snapchat's Create Your Own tool to upload your Geofilter design.
To finalize and submit your Geofilter (regardless of the method you used to create it):
Pick a start and end time.
Set your geofence. Do this by dragging the points to adjust its shape. You can adjust the size by pinching or spreading your fingers over the geofence.
Click "Submit" when you're ready to roll!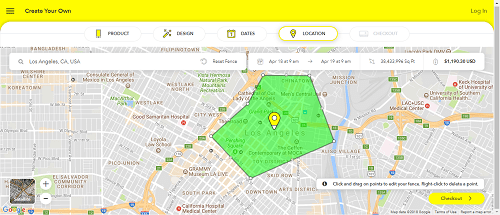 Screenshot via Snapchat
The price of a Geofilter depends on the size of the geofence, so keep this in mind when selecting the area. Community filters — filters that mark landmarks, cities, or areas — are free, but they can't contain branding.  You'll get a notification when it's approved. Confirm your payment, and you're set!
Snapchat Geofilter specs, dimensions, and guidelines
Geofilters can run anywhere from one hour to 180 days. For Snapchat to accept your Geofilter, you'll need to follow the guidelines:
You must have rights or permissions to use any logos, business names, or graphics.
For businesses, Geofilters must include a business name – it will be displayed so that users know the Geofilter was provided by your business.
It should be relevant to the location. Snapchat uses location information to determine if a user is within your geofence (which should be between 20,000 and 5 million square feet). Location information is often estimated, so make sure your geofence doesn't contain too many points or thin areas.
Speaking of taking up space on the screen, make sure your Geofilter has the right dimensions, size, and format:
File dimensions should be either 1080x1920px or 1080x2340px
File size must be 300KB or less
File must be saved as a .PNG file with a transparent background
There's also certain information that's not allowed:
Photos of people
Phone numbers, email addresses, URLs, download instructions, Snapcodes, social media usernames, or any personal information
Gambling or lotteries
Drug-related content
Social platform logos
More than two lines of non-stylized text
Geofilters also have to comply with Snapchat's Community Guidelines and Custom Creative Tools Terms, as well as the usual terms of service, advertising and privacy policies. If you cover the basics above, you're probably in good shape!
Finally, don't forget to measure! Snapchat's built-in metrics will show you the essentials, such as how many people used your filter (Uses) and how many people viewed your filter in action (Views). Find this data by hovering over your username in the top-right corner of the app's screen and selecting "My Orders."
A few examples we love
Snapchat Geofilters have endless possibilities. From simple event promotion (giving Snapchatters the chance to humble-brag about attending) to products and locations, Geofilters done right will bring more attention to your brand.
Need some inspiration? Here are a few creative Geofilers we love.
Broadway in New York City
Whether someone is passing by the famous Broadway or hitting up a show, this perfectly-themed filter was a sure bet for Broadway.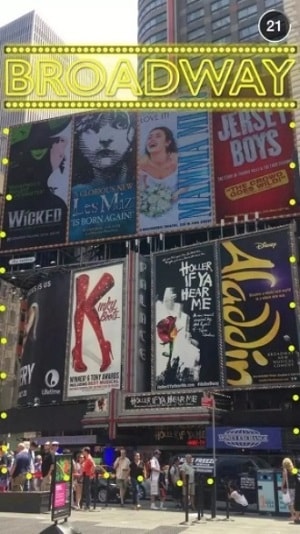 Image via Buzzfeed
Temple University
Temple University lets students and fans show off their Temple pride with this Geofilter.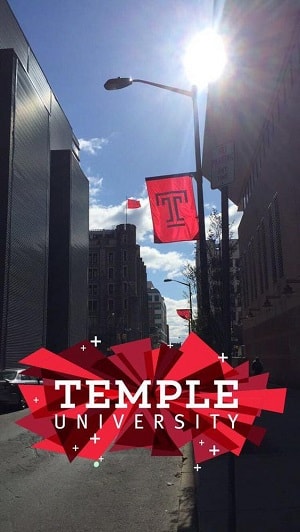 Image via Pinterest by Wit + Kit
McDonald's
McDonald's plays it smart with custom, location-specific Geofilters.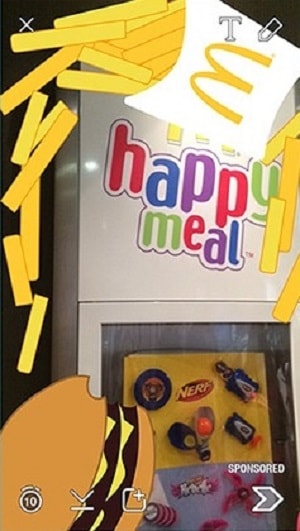 Image via Medium by Natalie Vasquez
GrubHub
Check out GrubHub's study Geofilter.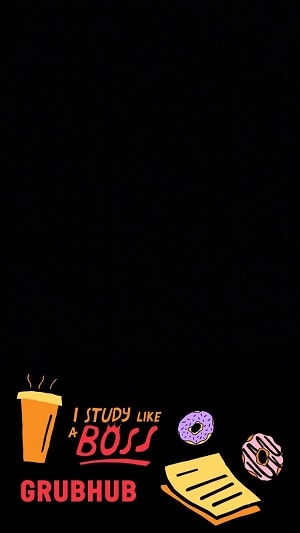 Image via Pinterest by Madelon Allen Creative
From custom social share buttons to custom Snapchat Geofilters, marketers are constantly looking for new opportunities to customize their brand assets to stand out from the crowd and show off their unique personalities. Snapchat's Geofilters are easy to create, so definitely give it a try — yours might just be the next filter to catch on like wildfire!
Want An Effortless Way to Get More Snapchat Followers?
Geofilters are a great way to bring more attention to your profile and boost your followers. You can get even more engagement from Snapchat users by installing our Snapchat follow button. Beautiful, quick to install, and easy to configure — our Snapchat follow button is designed to help you instantly grow your audience on Snapchat.  Take 5 minutes now to install it, then sit back, and watch your Snapchat follower number grow!