If you've ever been on Reddit, you likely know how easy it is to get lost in page-after-page of articles, videos, photos, and conversations. And you wouldn't be the only one – Statista reports that the site brings in nearly 1.3 billion unique visits each month. When visitors stop in for a visit, they spend an impressive average of 16 minutes on the site and visit 10 pages.
As the 9th most popular website in the world and the 5th most popular in the United States, Reddit can be a treasure trove of traffic and engagement for publishers who put the time, strategy, and resources into understanding the community and mastering the platform.
Get a crash course on Reddit, along with some tips to find success for your website.
Reddit 101: The Basics
Reddit's slogan is "The front page of the Internet," and it's pretty accurate. Perhaps one of the most enticing features of the platform is that all of its content is user-generated and user-curated.
Each post must be made by a registered user, and it can be "upvoted" or "downvoted." The most-upvoted posts make their way to the front page of the respective subreddit (more on subreddits later) – if you're lucky, you'll hit the goldmine and make the front page of Reddit.
It's a democratic system where the showcased posts are collectively chosen as the best and most interesting.
When users upvote your posts or comments, your Reddit karma increases. Likewise, downvotes lower your karma. Ultimately, the quest to "win" Reddit – for any user – can be summarized as getting posts to the front page and earning tons of karma points through consistent and meaningful engagement with other users.

See this awesome "Parts of a Reddit Screen" diagram from Pew Research Center for a breakdown of how the site is laid out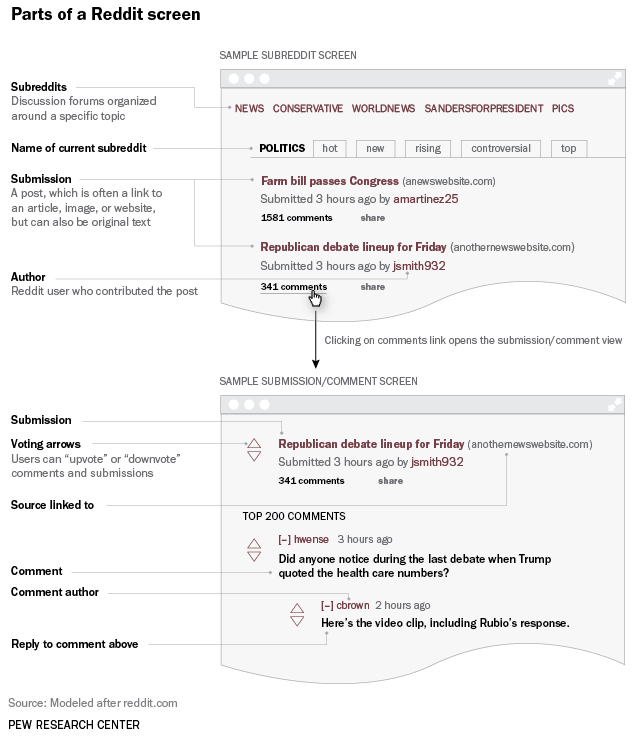 How to Use Reddit to Drive Traffic to Your Website
Reddit co-founder Alexis Ohanian gave the following advice for publishers: "Imagine being invited to a dinner table where people are all discussing an article you wrote. How would you engage with them? This is exactly how you should think about engaging on Reddit."
Ohanian went on to say that publishers are very likely to generate new content and ideas by introducing themselves and fielding questions from these highly-engaged readers. For example, a New York Times reporter engaged in a post on his prison beatings article and got so much from the conversation that he wrote a follow-up post.
To get this sort of conversation started, check out four key tips.
1. Post in a relevant subreddit
Think of a subreddit as a forum dedicated to a specific topic. With nearly one million of them, you won't be short on opportunities to find subreddits that suit your goals – from politics to Game of Thrones to completely obscure and hyper-specific topics like grilled cheese or tales from tech support. The beautiful thing is that by viewing and engaging with these subreddits, users have already expressed interest in them. It's like Reddit did the audience segmentation for you!
Here's a great chart that lists the most popular subreddits and the number of posts they garner:
To get started, visit the subreddits page and enter in some keywords for the types of content you'll post. Comb through the results to start generating a go-to posting list. Also check out this comprehensive list of subreddits.
2. Write engaging titles
On a site where millions of users are competing for the front page at any given second, titles are a make-or-break. First thing's first: take note of the posting rules for the subreddit, as they vary for each (you can usually find them in the right sidebar). The worst offenses won't even make it past the "Submit" button, as Reddit's automated filter will block posts that don't follow the most fundamental rules.
To give you an idea, here are the submission guidelines for the r/politics subreddit: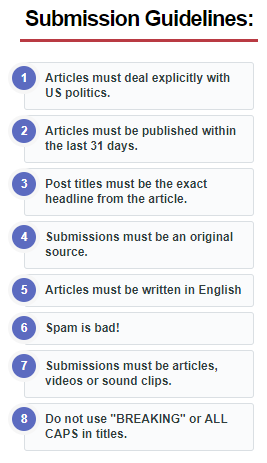 The science of how titles affect social media algorithms has received a lot of attention in the past few years, like in this math-heavy research paper from Stanford scientists. Without having to bust out the algebra, here are some pointers for a high-performing title:
This is obvious, but can't be emphasized enough: always check your spelling, grammar, and punctuation. Redditors are known to judge a book by its cover.
Be clear yet provocative. Let readers know what they'll find, while still piquing their interest.
Avoid reposting. The Reddit filter will catch you!
Stay relevant. Keep all posts timely and in the right subreddit.
If possible, post images. They get more upvotes than text posts. But keep in mind that text posts get more comments.
For text posts, shoot for very positive or very negative in tone. Those perform better than neutral posts.
Work your way up to one of the five most common subreddits that dominate the front page: r/funny, r/pics, r/gifs, r/TodayILearned, and r/gaming.
Additionally, make sure you brush up on reddiquette, which the site refers to as "an informal expression of the values of many redditors, as written by redditors themselves." The reddiquette wiki is a do's and don'ts list of sorts for posting and interacting with other users on the site.
3. Have a Reddit share button on your site
User-generated content isn't a one-way street. In addition to making your own posts, it's important to make it easy for your redditor readers to share your content on the site too. You can accomplish this in just a few clicks – we've included a Reddit button in our suite of social sharing buttons.
Just choose your channel, your preferred alignment, and customize the design.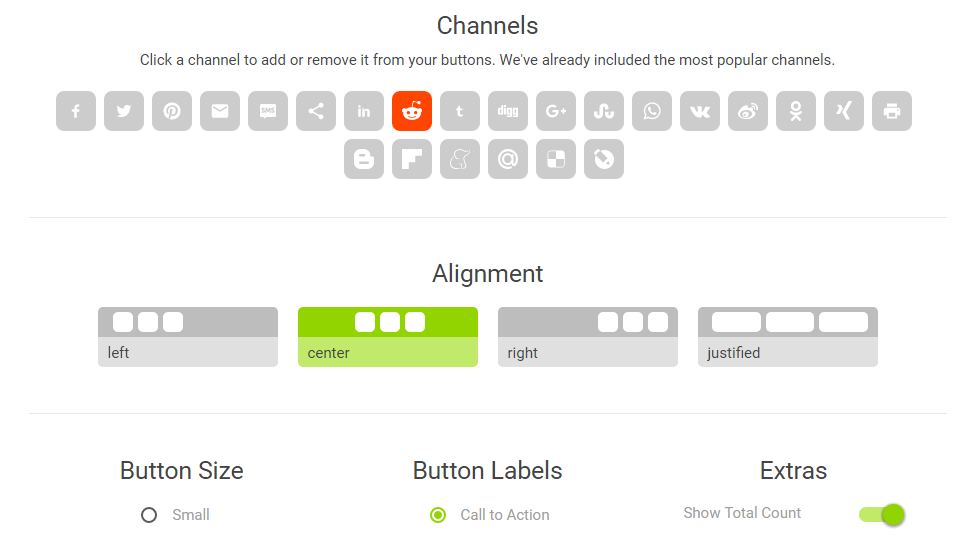 Our social media buttons are also mobile friendly, enabling readers to share your content to Reddit from any device.
4. Post at the right time
A Datastories study scraped the front page of Reddit for 22 days and uncovered a wealth of valuable observations. They found that the best time to post is 9 a.m. PST (12 p.m. EST). Posts made around this time cruised through the day, reaching a stable peak at around 5 to 9 p.m. PST.
If you're interested in more statistics and performance data, check out Reddit Insight, a handy tool that lets you track and view posts, users, word clouds, and interactions.
As a publisher that's constantly producing relevant, interesting content, you'd be doing yourself a disservice by not implementing a Reddit strategy. The platform garners millions of clicks a day and offers a unique, pre-targeted opportunity to generate tons of traffic from highly-engaged users.