With more than 50 billion total pins, it's not surprising that Pinterest is the second-highest performing social media platform when it comes to bringing in referral traffic. This success is partially due to Pinterest's skyrocketing growth: in 2010, it reached its first million users. In 2016, it hit 150 million users – and this number continues to grow.
How can publishers leverage the power of Pinterest to bring more traffic? Take a look at five strategies that you can use to keep users flowing to your website.
1. Optimize Your Pinterest Profile
When you use branding to give your profile a personality, you're telling a story, providing consistency and reliability, and building a relationship with your followers. And the data backs this up: research shows that 83% of Pinterest users would rather follow a brand than a celebrity.
So how can you brand your Pinterest profile and activity?
Choose your boards carefully according to your website's main goals and topics
Style your board covers to match your website's fonts, colors, and graphic style
In descriptions, keep your voice and tone consistent across pins
Include a clickable link to your website
Upworthy's Pinterest profile offers inspiration.
It's optimized in all aspects. You can see the logo, brand description, and link to the main website. The publisher has also styled its boards to match its website's look and feel.
2. Use a Pinterest Button
Once you add a Pin It button to your site, your viewers will be able to share things from your webpages on their Pinterest boards. When they do, you'll reach new audiences as their followers come across the shared content.
ShareThis offers an intuitive Pinterest button that allows your readers to save your videos and images via their Pinterest buttons. With our visual design tool, you can easily customize your Pinterest share button in just a few clicks.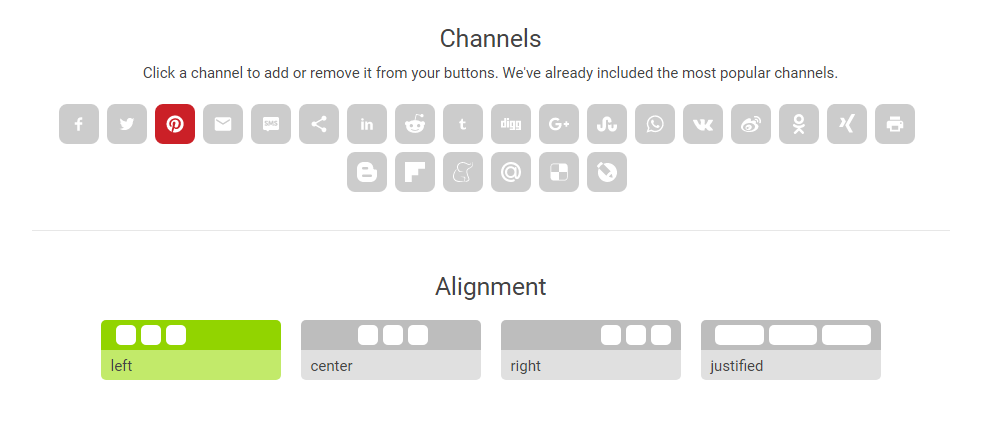 Just explore the range of our social media buttons, choose the Pinterest share button for your website, and start driving new visitors. The Pinterest button is lightning fast and mobile friendly, so readers can easily promote your content.
3. Post in Pinterest groups
You know that adage: "It's not what you know, it's who you know." This is surprisingly true to the digital world too. By doing the research and posting to relevant Pinterest groups, you get to put your brand in front of users who have already expressed an interest in your industry and subject matter.
Town & Country, the monthly American lifestyle magazine publisher, regularly contributes to Pinterest groups. Here's one of its posts in a Tennis-themed group.
By sharing articles in relevant Pinterest groups, Town & Country is able to drive traffic to its website.
You can use PinGroupie to find Pinterest groups relevant to your business based on the keywords you enter. Publishers can also filter groups by categories, the number of Pins, the number of Repins, the number of collaborators, and the number of followers.
4. Use Article Pins
In the age of instant gratification, article pins are an easy way to make sure that your audience gets all the most pertinent info directly through Pinterest. They allow publishers to show key details of an article like the headline, story description, and author name, along with a CTA button that links to the published article.
The above image shows article pins in action. People are redirected to the publisher's website when they tap or click the "read it" button.
When you use article pins, you also allow your readers to save articles they may not have time to read. Readers can save them to their own reading list board. For instance, readers may be interested in political news, so they could save the most interesting articles featured in your board to their own political reading board.
5. Have a Pinterest Board Featuring Your Publication's Authors
This is a great strategy for streamlining your users' experience as users tend to gravitate towards the work of their favorite content authors. By creating boards for your authors, you're curating the experience for your followers while giving your authors the recognition they deserve. It's a win-win.
For instance, BroadStreet Publishing created a board featuring its authors.
The profile of some authors is linked to their column on BroadStreet Publishing. That means that the publication receives traffic when audiences check out their favorite authors' work on the site.
The unique features and capabilities of Pinterest offer publishers a wealth of opportunities to distribute and promote their content to the right users, all while driving droves of web traffic. With the help of these five key tips, your brand will see a boost in activity on both your Pinterest account and your website.