Welcome to the Whatsupp with WhatsApp series!  This is part 1 of the series.  
When was the last time you saw a hilarious, fascinating, or shocking article that you just wanted to share with one or two specific people? You may have thought it not quite worthy of posting publicly to Facebook, but that a friend, colleague, or family member would be just as interested as you are.
This is a perfect example of the growing shift toward "private" sharing. Users are connecting more closely in a digital one-on-one setting, and it's changing the dynamic of how we communicate and exchange information online.
More and more, publishers are finding that chat apps are huge motivators and influencers in generating traffic, engagement, and the ability to go viral. People want to connect with their personal contacts over meaningful and valuable content, and WhatsApp is a leading tool for making this happen—boasting more than one billion users.
To stay relevant and ahead of the competition, smart publishers are turning to the WhatsApp share button, which makes the conversation seamless.
Take a look at three reasons why you should install the WhatsApp share button on your website.
1. It Creates an Uptick in Social Sharing
Mark Zuckerberg once said: "Messaging is one of the few things that people do more than social networking."
Since its launch, WhatsApp has seen amazing growth, pulling its weight in the social space and acting as a key channel for the skyrocketing private sharing trend. Quartz reported that when BuzzFeed implemented a WhatsApp share button for iOS users, clicks to the WhatsApp share button rapidly outgrew the number of Twitter button clicks.
Similarly, USA Today's sports website FTW reported that WhatsApp garnered 18% of the site's sharing activity, while Twitter lagged behind with 13%. One of driving factors behind the growth is the chat app's staggering user engagement: WhatsApp and Facebook Messenger process 60 billion messages a day. That's three times more than the worldwide volume of SMS messages!
2. It Offers a Greater Level of Personalization
Messaging a friend or family member on WhatsApp provides a level of personalization and privacy that re-tweeting or profile sharing just don't accomplish. It's almost like sending an email.
When a user sends a piece of content via WhatsApp, they send it to someone who they know will be interested. It's a foolproof way to get your content in front of "the right" eyes. If you've got engaged and targeted readers, you're on track for a further boost in shares and the possibility of going viral.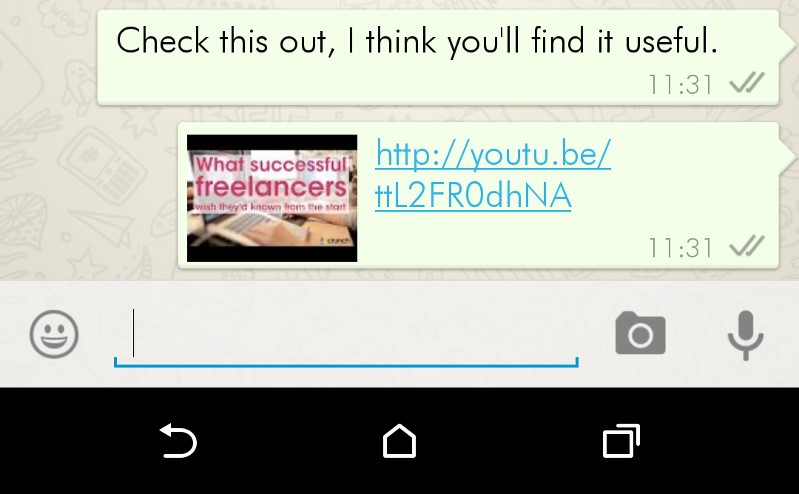 After all, when you opt to send an article to a specific person instead of sharing it on one of your social media profiles, chances are that person has similar interests as yours. Therefore, it's likely he or she will find the content interesting enough to engage with and share further.
3. It Drives Sharing on Mobile
With 65 percent of digital media consumed on mobile, a lot of sharing happens on the small screen as we've reported in the past. Facebook share, Twitter share, and Pinterest share buttons are the preference of most publishers, but our data shows that WhatsApp share offers a gold mine of opportunity. There has been a rise in the number of people using the private messenger's share button.
WhatsApp shares, as a percentage of total mobile shares in the ShareThis network, increased from under 1% in 2015 to over 6% in April 2017. It's evident that WhatsApp sharing embedded on publishers' sites is helping drive mobile shares.
4. How to Add WhatsApp Share Button on the Website
ShareThis offers a simple and easy-to-implement WhatsApp sharing button that can be installed and customized in 5 simple steps.
Just select WhatsApp as your social channel, define the button's size, select an alignment, and insert a call-to-action.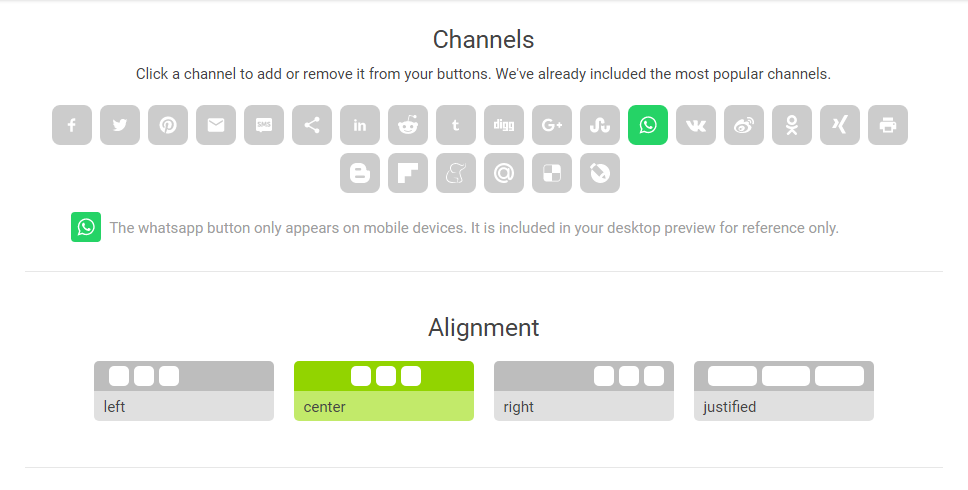 After customizing the button's design, you can also request a mobile preview to see exactly what the button will look like on mobile devices. Tweak if necessary, proceed if satisfied. Go through the examples of our share buttons in action if you need design inspiration.
Note that the WhatsApp share button is only functional on mobile. ShareThis includes it in your desktop preview for reference only.
After you're done, simply click the "register and get the code" button to get the WhatsApp button code to copy and paste into your site. Isn't that easy? For more installation details, check out our support post.
Private sharing is a growing part of how we communicate. Data continues to show that chat tools like WhatsApp are a powerful channel for publishers to get seen, shared, and talked about. By adding a button for WhatsApp share to your website, you'll be able to grab readers at the moment, which should increase your overall social shares.
Want to get more social traffic to your site? Check out these posts: