Welcome to the How to Have a Successful Blog series in which we share blogging tips for beginners from content marketing experts!  This is part 1 of the series.  
Does the following scenario apply to you?
You started a blog for your company, you post high-quality content regularly, and you're tracking analytics rigorously. But for some reasons, visitors' time spent on-page is low while bounce rates are high. On top of that,  you might also notice that bumps in traffic to your blog just don't seem to convert.
Studies show that 55% of visitors only read articles for 15 seconds or less. This means that if you're only looking at your visitor count, you're only getting a glimpse of the whole picture and not focusing enough on what makes a blog really successful:  reader engagement.
Improving reader engagement is crucial to the success of your blog. Yet, it's also one of the most challenging metrics for content creators to succeed in. If you're noticing that your readers don't seem to be very engaged with your content, you are not alone. Here are some blogging tips you can use to turn that around in a big way.
1. Really Get to Know Your Audience
The first step you need to take is truly understanding who your audience is. This may seem obvious, but it's a step that a lot of content creators simply skip. Once you clearly identify your readers, you can do two important things:
Figure out what they want to read
Put that content in a place that's easily accessible to them
Think you know your audience well, but still have a slight doubt? Check out our post on the most creatives way to get to know your audience.
Hint: your email list (even if it only has a couple of hundred contacts) is one of the biggest assets you have at your fingertips –use it! Chances are, that list is a good representation of your whole potential audience, so do some research, reach out to your contacts with a survey or questionnaire, and find out exactly who they are and what they want to read.
Asking your current readers questions like the list below will give you clear indicators on how to move forward:
How old are you?
Where do you live?
What do you do for work?
What is your favorite place to read the news?
What is your preferred social network?
What types of content do you prefer? (blog posts, video, podcasts, etc…)
What topics would you like us to cover on our blog?
These questions are fairly obvious so they are just a good starting point. When you find out that your audience is largely made up of 30-45-year-olds who live in urban areas, work in technology, primarily use LinkedIn, and enjoy podcasts and videos on topics like current events and innovation in tech, you can refine your content strategy to cater to their needs and interests.
2. Make Your Content Look Nice
People often say: "don't judge a book by its cover".
Well,  that piece of wisdom applies to many things — just not your content.  You shouldn't assume that visitors to your site will read anything that comes along their way. The truth is: your blog is judged by how it looks.
For this reason, it's important to have a clear post style. If your blog looks organized and put together, readers will stay longer. And the longer you keep them on the page, the more content they will consume.
When developing a post style, some things you should take into account include:
Font/Typeface Design
Link Design
Color Scheme
Pictures/Captions
Arrangements
Dividers
Icons
Having a unique spin on one or more of these elements will pique your reader's interest, making them even more likely to stick around. Need inspiration? Here are 18 great looking WordPress blogs.
3. Streamline and Break Up the Text
Since most visitors to blogs only read articles for a few seconds, nothing discourage them more from engaging with your blog than reading blocks of text.
Today, digital readers want their information in short, digestible bites. Yoast SEO is a great WordPress Plugin that will help you determine how readable your paragraphs are.
Take advantage of headings and lists and include color and different text treatments to liven up your posts. This enables skimmers to quickly get the gist of your article, thus increasing the amount of content they'll consume.
Finally, don't include filler text or stay on any single point for too long. If you ramble or lecture on your audience, they'll get bored — and boredom leads to higher bounce rates.
4. Make Your Content Visually Appealing
Even if you break up your paragraphs, sometimes too much text can still be overwhelming. This is especially true if you're giving the reader a lot of technical information. No matter how you deliver it, the information would still seem dull to someone outside of the field.
If you're worried that it may happen, consider weaving graphics, videos, or interactive design elements into text content.
Visual content generates up to 94% more views on a blog post. Charts, graphs, or even screen captures can help to illustrate your ideas and make things more readable. Just keep in mind that you should avoid stuffing stock images into your post just for the sake of it.
5. Speed Up the Load Time
It's a fact of life — people on the internet are impatient. 40% of people will click away from a site if it doesn't load within 3 seconds.
Every second of load time counts. In fact, Facebook recently announced they will favor bloggers and publishers with faster load times in the Facebook News Feed. So if your site is slow, your potential readers won't even have as much of a chance to stumble upon your content.
That said, you can take actions to improve the load time of your site. For example, consider where your blog or website is hosted online. Do you use WordPress? Companies like Pagely, which handles Managed WordPress Hosting, exist solely to help you speed up your site and improve its performance to keep your readers engaged and coming back.
6. Optimize Your Site for Mobile Readers
In 2016, for the first time ever, mobile internet usage surpassed desktop.
Making sure your website or blog is "responsive" is one thing, but it's only the first step to the great user experience on mobile — in fact, this is where lots of companies stop thinking that they've already optimized their sites for mobile usage by making them "responsive".
According to Google, 61% of users are less likely to return to a mobile site they had trouble navigating through. This means that if your text is hard to read if your images don't load properly, or if your formatting takes a few extra seconds to adjust to the mobile screen, you're losing your readers.
Here are the 5 most important things you should consider when looking to optimize your blog or website for mobile:
Speed up your mobile site
Don't stop at responsive
Consider a mobile app
Avoid common SEO mistakes
Track your progress and iterate
An Engaged Reader is A Happy Reader
People are so used to clicking from tab to tab, without retaining any of the information. That's why if you want to succeed in the content-overload world, you need to put extra efforts to make your content stand out.
If someone takes the time to read through your post and the information resonates with them, it leads to more shares. If that happens, it leads to more readers. This positive loop is the type of engagement you want and will do wonders for your brand.
So the next time you're checking to make sure your site is SEO-friendly by using the right amount of keywords and backlinks, you should also double check: did I try everything I can to make this content engaging?
If you dedicate time to starting with those blogging tips, you'll be on your way to success!
Using WordPress? Installing our share button for WordPress Plugin takes less than five minutes. Get started today!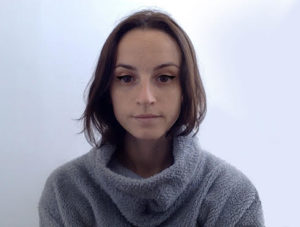 Lizzie Kardon is a digital marketer living in New York City and leading content and reader engagement strategy at Pagely.