By now, your inbox is probably brimming with notices about the General Data Protection Regulation ("GDPR"), and you may be wondering how to take the right steps to comply with this new law – we're here to help.
ShareThis has released a GDPR Compliance Tool, which you can implement on your site in a matter of minutes.
We've streamlined our GDPR Compliance Tool to help you navigate what will likely be one of your first significant challenges: collecting clear, educated, opt-in-based consent from your site visitors before capturing any of their cookie data.
Here's what that looks like: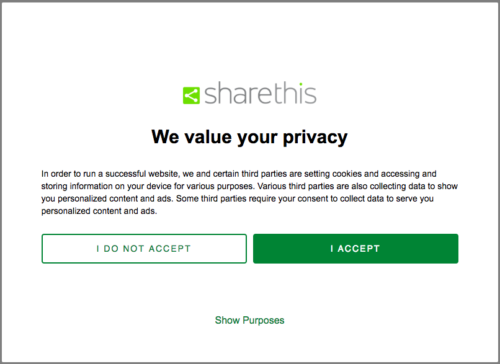 Installation is as seamless as with any other ShareThis publisher tool:
Register or login to your existing ShareThis account
Copy your unique installation code
Paste that code into the <head> tag of your website
The ShareThis GDPR Compliance Tool is designed to help you gain the trust of your audience by providing a straightforward opt-in consent mechanism, as well as transparency into the use of their consented data.
Want to ensure an airtight user experience?
We're big on that too, so we made sure you can customize the tool in a few key ways:
Geotargeting – You decide whether to display the consent pop-up to all site visitors or only to visitors in the EU
Language – You can ensure the language matches your site to maintain user expectations
Vendor List – You can include any vendor participating in the IAB Framework, to provide site visitors detailed control over who has access to their data
Still, as a digital publisher, you may have more than few hoops to jump through to fulfill all your GDPR obligations. While we are not a resource for legal advice, we recommend that you review IAB Europe's Transparency & Consent Framework and their corresponding resources.
If, after reviewing the nuances of the GDPR requirements, you have determined that implementing a consent mechanism is a helpful and necessary step for your site, we've got you covered:
Still have questions? Check out our GDPR Compliance Tool FAQs to help you get started.