When it comes to launching a new blog, the very first decision you'll face is where? Which service will you use to host and create your blog?
Do a bit of research, and you'll probably have your choices narrowed down to the top blogging services of 2018: Blogger, WordPress, and Weebly. But what's the difference between WordPress.com and WordPress.org? Why would you choose Blogger over Weebly? Is Weebly even a blogging service?
We bring you the breakdown:
Blogger

Launched in 2003 and acquired by Google Inc., Blogger is one of the oldest and most popular blog-publishing platforms. Users appreciate the easy-to-use administrative back-end, versatile design, and plenty of customization features to create a blog that fits your personal style.
Pros of Blogger:
It's free. And there are no limits on disk space, bandwidth, or daily traffic.
Your blog will live on Google servers, and that means you can securely store unlimited photos, video, and other media. (And yes, even at the free level, storage is unlimited!)
No technical skills required! There are plenty of easy-to-use templates, making it simple to build a blog around your style.
The platform's built-in analytics can help you get to know your audience, from location to interests.
Blogger supports Google AdSense, so you can earn income off targeted ads.
Cons of Blogger:
It's only a blogging platform, which means you can't install Blogger on your own web servers.
Your blogging tools are limited, so your blog features will always be limited.
Compared to WordPress, few high-quality free templates are available.
You're confined to Blogger's blogspot.com URL structure, unless you have the technical know-how to use DNS settings to set up your own domain name (additional cost) over Blogger's subdomain. Still, you won't have the same freedoms of a hosted blog. (See WordPress.org, below.)
You're at the mercy of Google, which, technically, could abandon Blogger at any time (as they did Feedburner, for example.)
The verdict on Blogger
Blogger is easy to setup and use, so it's great for first-time bloggers. That said, if your blog grows or you simply want to branch out, you'll probably join the legions of bloggers who switch from Blogger to WordPress.
Pro tip: Add the Blogger share button to your website to drive traffic.
WordPress.com

WordPress.com is a free blog hosting service through Automattic, a company owned by Matt Mullenweg, cofounder of WordPress.org. It's essentially a free to low-cost hosted version of WordPress.org (see below), with severe limitations.
For the purposes of this comparison, we'll discuss only the free version of WordPress.com. (Premium versions are available for $4-$25 per month, as of May 2018.)
Pros of WordPress.com:
It's free.
It's easy to learn, easy to use, and easy to manage, even if you've never had a blog before.
There's easy SEO integration, social media integration, and other value-adds.
WordPress stats are easily available to better understand your audience.
You can upgrade to a premium account, anytime. For example, make the jump to a Personal account (as of May 2018, $4/month, billed yearly) to increase storage space, lose the WordPress.com logo and ads, and get a custom domain name.
You can easily migrate to WordPress.org, should your blog grow.
Cons of WordPress.com:
You're locked into aWordPress subdomain (yourname.wordpress.com).
At the free level, 3 GB of storage space is very limiting (especially when compared to Blogger's limitless storage).
There are only a few dozen free themes available – very limited, when compared to other (even other free) options. To access premium themes, you'll have to upgrade to a higher-tier premium plan.
Options, like plugins and storage space, are very limited to extend and expand your site.
You don't own your blog; WordPress.com owns your domain, which means they can suspend your account and even cancel your blog, if they find you in violations of their TOS.
You can't incorporate advertising. (Although WordPress.com will run their own ads on your account.)
The verdict on WordPress.com
If you're just starting out, WordPress.com can be a great first step toward your future blogging empire. That said, if you take blogging seriously, you probably won't want to stay for long at the free level of WordPress.com.
Pro tip: Add the WordPress share button to your website to drive traffic.
WordPress.org

The world's most popular blogging software, as well as one of the most successful open-source projects ever, WordPress.org, which we'll simply call WordPress, is a blogging software platform that you install, self-host, and run on your own domain name.
Pros of WordPress.org:
It's free! At least, the software is.
You have control over everything. Self-hosted WordPress allows you to tweak, adjust and control every aspect of your blog or website.
And yes, you can use WordPress to build blogs and websites. The options are almost as vast as the imagination.
There are thousands of templates available, both free and premium. Many designers also build custom sites in WordPress.
You'll have access to 50,000+ WordPress plugins, many free, which add almost limitless features to your blog – think email list sign-ups, PDF downloads, contact forms, etc.
You can add tons of extra features, from user log-ins and forums, to online stores and membership sites.
WordPress is very SEO friendly, especially when used in conjunction with SEO plugins.
Cons of WordPress.org:
You'll have to purchase a domain name ($10+ per year) and site hosting ($5+ per month) to host your blog.
You'll also have to self-host, which requires some tech know-how (or a fully featured domain host) to install WordPress on your site.
There's a learning curve to hosting your own site.
You'll also be responsible for your own site security and blog backups.
The verdict on WordPress.org
If you're willing to take on the responsibility of self-hosted WordPress, then this is, hands down, the best option for full customization and flexibility for your blog.
Pro tip: Add the WordPress share button to your website to drive traffic.
Weebly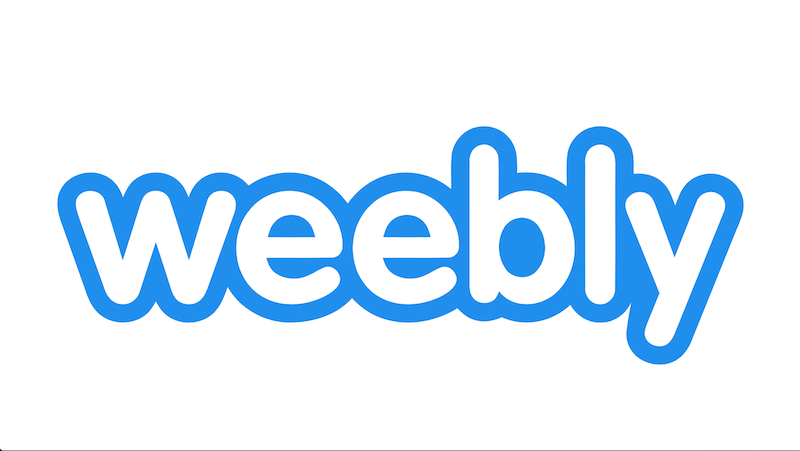 In contrast with the other options on our list, Weebly is a free site-builder designed for drag-and-drop (aka WYSIWYG) websites. Though you can use Weebly to build and maintain your blog, you should know that it's more a competitor of Wix.com than of Blogger or WordPress.
For the purposes of this comparison, we'll discuss only the free version of Weebly. (Premium versions are available for $8-$25 per month, as of May 2018.)
Pros of Weebly:
It's free. (And the free version is a great way to try Weebly before upgrading to the premium version.)
Sign-up is very easy, with just your email address, Facebook, or Google account.
Even at the free level, there are many themes from which to choose.
Since Weebly hosts your site, set-up is quick and easy. Really, there's almost nothing easier than a drag-and-drop.
Third-party integrations expand the function and flexibility of your website, making it easy to install an online store, website, and other features.
Built-in SEO is integrated directly into Weebly sites, so you can increase your search engine position and organic traffic.
Cons of Weebly:
Weebly is not a blogging platform, but a website-builder.
At the free level, you receive a measly 500 MB of storage. Upload photos and video, and you'll run out of space in no time. The cheapest paid level (as of May 2018, $8/month) affords unlimited storage.
There's limited integration with third-party platforms, thus throttling your blog options.
You can't incorporate advertising. (Although Weebly will run their own ads on your account.)
If you want to upgrade your site in the future, know that exporting your blog is difficult (to a non-Weebly platform).
The verdict on Weebly
Just because you can, doesn't mean you should. While Weebly builds great websites and e-commerce sites, it's probably not the best or easiest option for blog-only sites. That said, if your blog is more a complement to an ecommerce store, rather than a standalone blog, Weebly can be a great solution.
Pro tip: Add the Weebly share button to your website to drive traffic.
And there you have it – a comparison of Blogger vs. WordPress vs. Weebly. When making your decision, take your time. While it's possible to migrate your blog from one service to another, it's not always easy. Choosing the best platform for you, from the beginning, will save you in the future.