Have you ever come across a really helpful article online that makes you want to share with your best friend or family member immediately?
But there's a hurdle: you can't find the appropriate social media button to share to email, because the site only allows you to share it publicly to your Facebook, Twitter, and LinkedIn channels.
When a reader wants to engage in meaningful conversations with his or her personal contacts, email is an ideal medium for making this happen. By planting an email share button on their sites, publishers can empower readers to share via email directly to the inboxes of coworkers, family, and friends. In fact, according to Pew Research Center, two-thirds of Americans say that family and friends are an important channel from which they get news articles.
Still on the fence? Here are three reasons why you should place an email button on your website.
1. Offers A Great Degree of Personalization
Despite the popularity of social networking apps, email remains the desired channel for communication. Over 205 billion emails were sent and received on a daily basis, or over 70 trillion per year.
So why haven't people abandoned email in favor of the new messaging tools?
It may be because email offers a level of personalization that cannot be achieved by profile tagging or re-tweeting. When a reader shares a piece of content via email, he or she tends to share it with a close connection. Email allows the sender to address the recipient by his or her name and reference the shared interests. Therefore, it's a foolproof way to get your content in front of the right audience.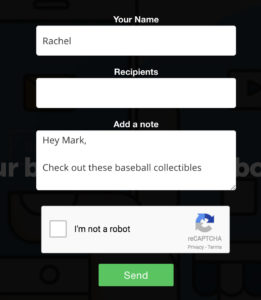 After all, when you send a blog post to a specific person's inbox instead of sharing it on one of his or her social media profiles, you let that person know that the content is specifically for him or her. Chances are that the recipient's interests are similar to yours, so it's likely he or she will find the emailed content compelling enough to engage with.
2. Drives More Referral Traffic
You can drive more referral traffic by placing an email share button on each of your blog posts to capture dark social shares, a term that refers to the act of copying and pasting links to share content in private channels such as email, messenger apps, and SMS. Because links from these private channels don't include referrer data, Google Analytics can't track dark social shares.
Our analysis of 11 million shares across private and open social channels found that the vast majority of private social sharing happens through dark social rather than through directly clicking on the private sharing buttons specifically designed to share content via email, SMS, and WhatsApp.
Still, there is a huge opportunity for publishers to build additional traffic by installing email button on their sites. They can serve as an advertisement or reminder to the reader to share content to the destination of their choice, regardless of whether they will do so by clicking a specific button.
3. Encourage More Email Shares
You can increase a visitor's confidence in your website, particularly if it is a blog, by displaying an evidence of social proof.
After installing and customizing the design of our share buttons to match your site, you can choose to display the total share count to signify social endorsement, thereby encouraging your readers to share your content with their own communities.
The most successful publishers adapt to their readers' needs. The best ones convince their readers of what they need. By using an email share button, you'll empower your audience to send your articles directly to inboxes of family, friends, and coworkers, which will increase your website's visibility and overall shares.
Want to get more referral traffic to your site? Check out these posts: