Welcome to the How to Have a Successful Blog series in which we share blogging tips for beginners from content marketing experts!  This is part 4 of the series.  
Are you looking to use online marketing to grow your email list, expand your email database, and make sales? Then you need to be blogging.
Livestreams, Instagram Stories, and Snap storms may be the new, trendy tools for driving engagement with your audience, but they can't completely replace a good piece of content on your own website.
For example, unlike snaps and stories, blog posts don't disappear after 24 hours. And unlike live video, you don't need separate equipment or to spend a lot of time practicing what you're going to say.
Even though blog posts may even seem boring compared to a lot of newer online marketing tactics, the posts are evergreen, live on your own property forever (unless you delete them), and you have total control over them. So when it comes to generating subscribers and driving conversions, you should definitely include blog posts in your content strategy to attract and engage readers.
HubSpot has found that companies that blogged 11 times or more per month got 3 times more traffic than those blogging once a month or less.
But how do you use blog posts traffic to drive results for your brand?
It all starts with getting readers to subscribe to your email list. Here are three ways you can grow your subscriber list through blogging.
1. Have multiple opt-in points on your website
First of all, remember that people cannot sign up for your email list if they don't know that it exists.
Many brands make the mistake of adding a "Newsletter" link to their website's footer and not doing anything else. But blogs are home to massive amounts of content, so one link at the bottom of the website will be overlooked.
Instead, weave multiple opportunities to join your mailing list throughout the blog's design, and the blog posts themselves. An opt-in point can be something like a form that readers enter their email address into, links to a sign-up page, etc.
Different locations to place opt-in forms include:
Your website header or footer
A dedicated page on your website
Your blog's sidebar
At the end of each blog post
Within the body of a blog post
As a pop-up for new blog post visitors
For example, the ShareThis Email List Builder allows you to create customized pop-ups on your website: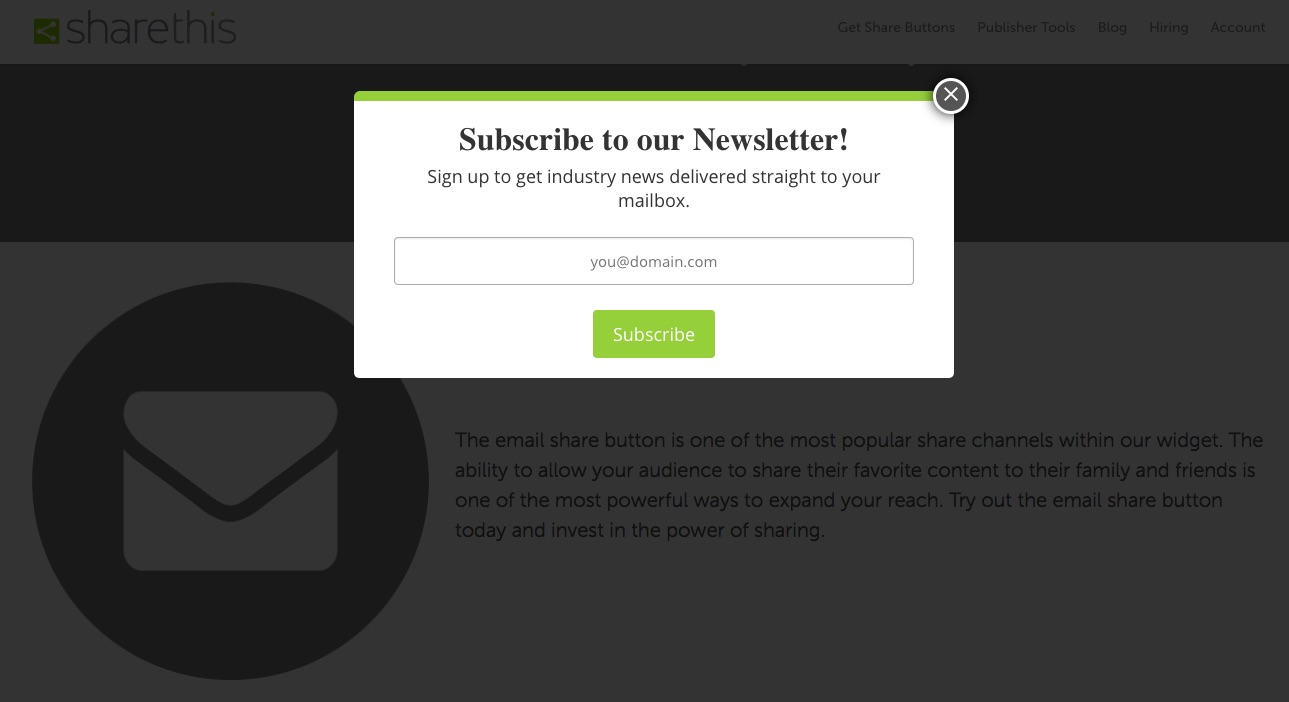 And the CoSchedule blog uses graphics within the blog post content to offer freebies in exchange for joining their email list: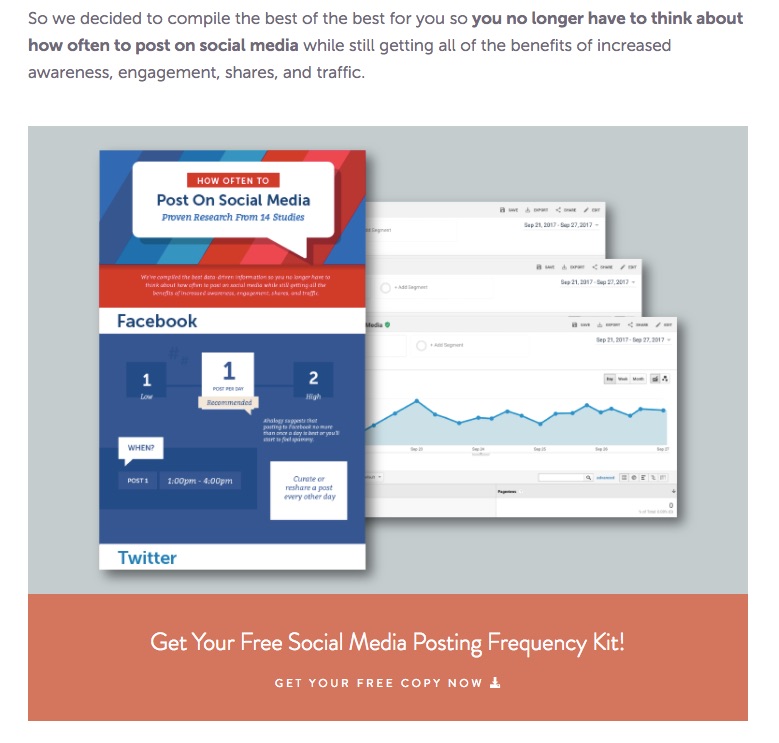 This ensures that people notice your email list. Even if they don't notice or happen to ignore an initial opportunity, this secondary presentation offers another chance to sign up down the road.
2. Create targeted lead magnets
Lead magnets are one of the most important aspects of growing your email list. A lead magnet is basically an offer to attract people (like a magnet) to join your email list. It's the reason that someone might sign up for more emails from you, so brands must carefully consider what they're going to offer through their blog posts.
Without a lead magnet, your offer might sound vague, for example, "Sign up to receive emails from us." What does the reader get out of that?
Instead, offer something specific and valuable that gives someone incentive to sign up. For example, as shown above, ShareThis offers a newsletter with important industry news that publishers and brands need to stay on top of their game.
Pinch of Yum's lead magnet is a free e-cookbook with its top 25 recipes:
As a popular food site, their recipes and opinions are trusted, and readers interested in food want their top recipes.
It's important that your offer is as relevant as possible to your audience and the content you create in order to convert them into subscribers. Need inspiration? Campaign Monitor created this infographic to help you attract new prospects and increase sales through email newsletters.
3. Personalize your calls-to-action
Finally, you can win more email subscribers from your blog posts with very personalized, resonating calls-to-action. How you design and describe your offer is the key to making readers stop and enter their email address.
First, you need to design your call-to-action so that it stands out on your blog and is noticeable among all the other content. But it still needs to look good with the rest of your website's design.
Secondly, you need to use interesting and direct copy to describe your lead magnet and make people want it. In the above example, ShareThis indicates that it is offering relevant industry news, instead of random updates.
Similarly, Pinch of Yum mentions in their copy that they're offering the site's most popular recipes, which appeals to readers who want to get the site's best recipes for free.
Tools like Email List Builder enable you to customize the colors and text of the call to action button, so you can quickly design it to match your brand and catch a reader's interest with the most appealing message.
Grow your list
Email remains one of our most important communication tools today.
You should incorporate email list building as part of your marketing strategy, coupled with other tactics such as emailing your readers your blog posts directly and driving traffic to them with an email share button.
Grow your audience today with just a few minutes of setup!