Welcome to How to Use Flipboard Like a Pro series! We'll explain what is a Flipboard magazine, how does Flipboard work, and how to use it for different purposes. This is part 1 of the series.  
Staying abreast of the latest news can be difficult, and it can be even more challenging for readers to keep tabs on stories that they're interested in. The best pieces of content are often overlooked in the midst of social noise and click-bait posts that don't impress. Fortunately, there's a quieter and more premium platform that can help predict readers' content consumption preferences based on their reading habits — Flipboard.
Flipboard is a powerful app that stores all the information that matters to a reader, nicely curated in a beautiful magazine-style format. Moreover, as a publisher, you can connect it to your RSS, Facebook, and Twitter feeds to integrate your content promotion channels. It updates automatically and allows both desktop and mobile users to share the content they find useful with their peers.
People love to have not only a variety of choices, but also the availability of great content in a single, easy to use platform – that's why Flipboard currently boasts more than 100 million monthly active users. And publishers are flocking to Flipboard to get a slice of that audience pie. Dozens of them have published their content on the digital news magazine in the past 6 months and are seeing incredibly good ROI.
U.K. finance publisher City A.M. stated that personal magazine app can account for 10 to 11 percent of its total traffic on a good day. So, by flipping your articles into a Flipboard magazine, you can reach new audiences.
But that's just one way to improve your overall readership using Flipboard. To stay one step ahead of the competition, smart publishers are leveraging the Flipboard share button, which scales the content's reach.
Here are three reasons why it makes sense to install the Flipboard share button on your website.
1. It Increases Brand Awareness
With millions of people going through Flipboard on a daily basis, there's a wide range of activity happening on the platform. Flipboard users share stories everyday by discovering topics in the platform and storing their favorite articles into Flipboard Magazines. Today, Flipboard readers can access over 34,000 topics to share inspiration with others.
Flipboard users are curious, influential, and affluent readers who invest in learning more about their passions. Therefore, when a site visitor shares one of your posts through a Flipboard share, your content is introduced to an enthusiastic community. Because publishing is deeply rooted in Flipboard's environment, readers see companies' stories as a natural fit. As a result, nothing about the content feels forced or gimmicky. Expect an increase in brand awareness as your story gets passed around and added to user-generated magazines.
2. It Offers a Personalized Experience
Specific features like Smart Magazines allow Flipboard to offer a level of personalization and control that other social news aggregators can't accomplish. Think about it: what better way to enjoy tailored content than having an interest-specific magazine that features major news as well as niche stories relevant to your interests?
Flipboard gives people control over the content they're passionate about and allows them to show support for their favorite publishers by including these publishers in their content selections. Consequently, Flipboard fans who follow niche magazines will likely find the flipped stories interesting enough to engage with and endorse further.
3. It Improves SEO
Links are essential to SEO rankings as search engines love rewarding sites with a strong following and those that engage in high-quality journalism. When Google finds out that your site is popular on the web, it will boost your site's ranking in search engine results.
When a visitor shares your post on Flipboard, they create a link to your content and website. If you're fortunate enough to get a lot of shares on Flipboard, you'll know that your story has a chance to get noticed by readers of sites like World News Watch, Mashable, and many other valuable properties across the platform.
As your social shares grow, so does the quantity of naturally-occurring links pointing to your site. Therefore, having the Flipboard share button on your content is a key starting point to improving SEO.
ShareThis offers a robust and easy-to-use Flipboard share button. With our social media buttons, you can customize its design to look great across all mobile and desktop devices. Just choose Flipboard as your social media channel, select the button's size, pick an alignment, and enter a call-to-action.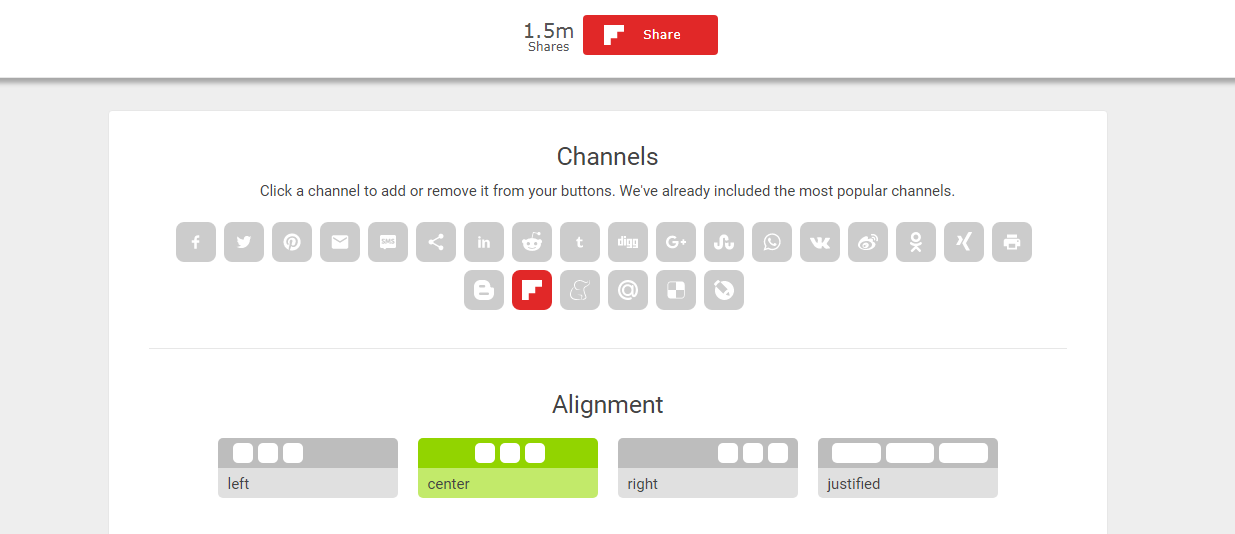 Once done with customization, you can request a mobile preview to see how the button will appear on mobile devices. Make changes if necessary, then proceed if everything looks good. If you're looking for design inspiration, go through the practical examples of our share buttons.
Today's readers are increasingly drawn to personalized content. Research continues to show that social magazine apps like Flipboard are a powerful channel for companies to get discovered, talked about, and shared by readers. By adding a Flipboard share button to your site, you'll be able to attract readers who're in the content discovery process, which will increase your overall traffic and social shares.