There's more than meets the eye on your traffic sources report.
At first glance, it shows you where your readers are coming from. For instance, they might be coming from Twitter, Google searches, or other publications that link to your articles. The report breaks down the top five sources, like this:
It's no secret why this information is beneficial. When you know your top referrers, you can try to drive even more traffic from those sources. The question is: How do you do that? How do you use this information to optimize your distribution strategies and expand your readership?
Let's break down three hidden lessons in this report, and the steps you can take to drive even more traffic.
1. Optimize your share buttons
Are you driving tons of page views from Facebook, Pinterest, or Twitter? Then it's time to give your audience the tools they need to share even more content on those channels and increase your referral traffic.
You can do this easily with our new share button design tool. Simply choose your social channels, customize your design, and install the buttons on your site.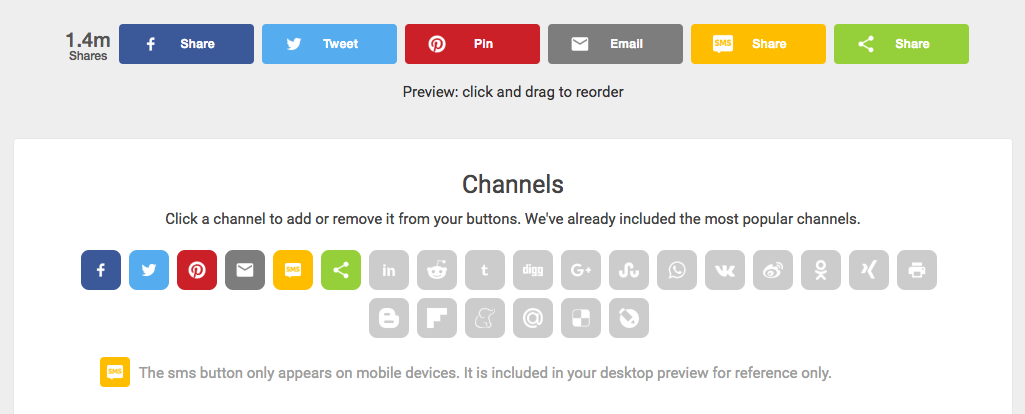 Maybe you want to use inline buttons, like 70% of our publishers do. Or maybe you want to include a call to action, like 60% of our publishers do. With this visual design tool, you make it happen in just a few clicks.
Now when someone reads your content, they won't have to think twice about how to share it with their friends. And you can reap the rewards with a spike in traffic.
2. Test your copy
Don't just publish any social post and hope that people will continue to click through to your site. You want to share the most engaging content possible on your top-performing channels. Thankfully, you can find out exactly what readers want by A/B testing your copy and images.
Say Facebook is one of your biggest traffic sources. You can use our Social A/B tool to start running tests in minutes. Just choose an article and enter some variations for your headline, image, caption, or intro copy.
Maybe you want to see if readers respond better to a question or a statement. You can run your A/B test like this: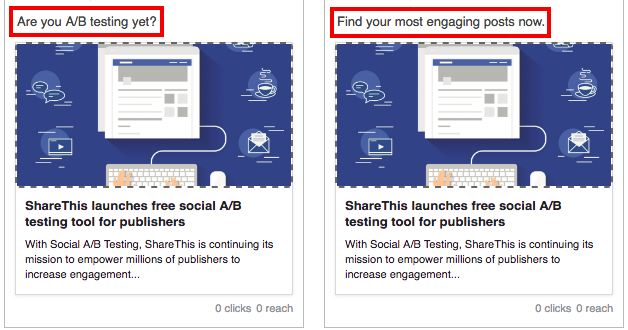 We'll then split the variations among your age-targeted audience—half will see the first post, and half will see the second. Once we have a winner, you can publish the most engaging post right away.
Most importantly, you can use these new insights to create even more relevant content going forward. USA Today, for instance, saw an average 25% lift from using Social A/B.
3. Drive more mobile traffic
Last year, over 70% of social referrals in the ShareThis network came from mobile devices. If mobile sites are also among your top traffic sources, then you have a huge opportunity to make social sharing even easier for your on-the-go readers.
That's why our share buttons are mobile-optimized. Our share buttons can be easily customized to look great across all mobile devices. You can even include buttons for mobile-specific channels like SMS text and WhatsApp.
Once you customize your design, you can also see a mobile preview to make sure every button looks exactly how you want it to.
Again, your traffic sources report may seem simple, but don't take it for granted. It's full of important data you can use to increase your readership and empower your audience to share on their favorite social channels.
There are so many ways you can make the best out of your site. Keep reading…